Researcher profile: Mahmoud Maina, School of Life Sciences doctoral researcher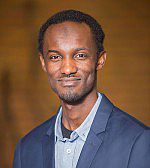 Name:
Mahmoud Maina
School:
School of Life Sciences
About Mahmoud
Mahmoud Bukar-Maina joined the University of Sussex in 2011 for his MSc in Cellular and Molecular Neuroscience where he graduated with the top distinction in his class. His MSc research focused on understanding the interaction between Aβ42 and microtubule-associated protein tau in the context of Alzheimer's disease. His MSc performance and strong enthusiasm in research led Sussex to award him with Chancellor's International Research Scholarship to study for his PhD in Neuroscience and to expand on his MSc research.
What advice do you have for other PhD students about making the most of their time at Sussex?
First, you need to identify that Sussex is the right place for you, so make sure you have a supervisor who is working along the same line of research that you want to work on. You obviously also want to be excited about what you're doing.
Second, get involved in other things. As a PhD student, you need to interact with other PhD students. In neuroscience there is a rep who organises meet-ups and outings, you get to meet other people and this often helps with your research. You can really get bored and probably even depressed if you keep working without getting involved with other things.
What do you like about Sussex?
One thing that is exceptional at Sussex is this international atmosphere. During One World Week there are lots of opportunities to see what other people do from all over the world. And, it's great that Sussex has got so many international students. For me, the fact that there were lots of students from Nigeria and from other African countries, who share a similar lifestyle is great. We've played a lot of football here. We do a lot together.
The feeling that you belong, as well as what you say is important, this is one of the great things about Sussex.
What work have you been doing in Nigeria with TReND?
I've been involved with the Teaching and Research in Natural Sciences for Development in Africa (TReND) NGO for the past four years.
One of the co-founders is a senior lecturer here at Sussex and I am the outreach coordinator. We organise science activities for people in Africa, with the aim of creating a future generation of scientists and enlightening policy-makers about the importance of science.
Earlier this year I went to Lagos and reached out to two high schools. I organised a science workshop for them to replicate the changes that happen in the brain when someone has Alzheimer's disease. I tried to reduce it to the level children could understand, so that everyone was able to understand the complex nature of the disease. They were really excited.
[Ed: Mahmoud's visit to Lagos was also reported in the Nigerian press: Day Sussex varsity led Lagos students in Alzheimer's experiment]
I did a similar thing in the northern part of Nigeria with seven schools. I organised a whole science festival at Gombe State University, this was attended by members of the public as well as government officials.
I met over 500 people directly, but as these events were also covered by the local radio, newspapers and TV; I think the total outreach would be in the thousands. It was really seminal activity; nothing had been done in Nigeria like this.
I also gave out over 40 old, but functional, microscopes from the School of Life Sciences at Sussex and the Department of Zoology at the University of Cambridge. I donated to the schools in Lagos, Yobe and Gombe. Sometime this year I hope to go back to organise another science festival and donate more microscopes.
Why is TReND's work important?
In the UK science festivals are organised regularly and kids from four or five are starting to understand how science is done and thinking about what they are going to become. In most African countries you don't really have that, here in the UK you might talk to someone about cancer or Alzheimer's, but you don't really have those conversations there. People often don't connect the importance of science to their lives and research to the economy. This is important to change as it can affect a country's economic prospects.
How did you teach children about brain diseases?
One of the ways I taught children about brain diseases is through an experiment where they break-up a dead fly. Another method uses a ball on a board with small holes and students must try to get it to an end point. When you have Alzheimer's, as students realised, the ball falls through the holes over and over again. This shows how difficult it is to remember things for people with Alzheimer's.
Is Alzheimer's a problem for Nigeria?
There are estimates that in the next few decades this will be a big problem for the developing world and that includes Africa. It's going to become more of a problem there than here, as there are not even the diagnostic tools in place. There are no government plans to work out how to manage people with these diseases, and people with the diseases are often stigmatised, you hear people saying they are 'daemon- possessed'. It is a serious problem that people don't know that such a disease exists.
What developments do you see in Alzheimer's research over the next couple of decades?
I am cautiously optimistic there will be some treatment that will slow the disease, and there have been some developments already. If you can slow down dementia for a few years this would have a significant impact on the economy and on the lives of people affected.
In Nigeria, we also have a rich medicine of plants that has not been researched. People have been using them for years, but there has not been research into this. I want to bring my research to this untapped, century-old use of African medicines for diseases.
What are you doing after your PhD?
The whole reason I came to Sussex in 2011 was to do my masters and help find solutions for human diseases. After my masters I was motivated to go for PhD. But after the PhD you are not a completely independent scientist and you haven't solved all the problems in the world, you need to continue to research and get established. I am thinking of doing a post-doc here at Sussex or maybe elsewhere. I want to continue to work on brain diseases and Alzheimer's. During that time the supervision is less; it's about building you as an independent scientist.
Hopefully after a post-doc I will go back to my country, set up my own group and try to teach and inspire people using what I've learnt in Nigeria.