Santander Universities mobility grant helps to inspire jointly authored paper
In the Autumn of 2014, Santander Universities funded School of History, Art History and Phoilosophy doctoral researcher Laura Cofield and Dr Lucy Robinson's journey to New York University and the Fales Archive.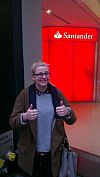 The visit, the relationship that Laura and Lucy developed, and their subsequent research was presented in various forms in Berlin, Atlanta, and at a number of UK conferences.
Dr Lucy Robinson also used the experience as the basis of her key note at the KISMIF (Keep It Simple Make it Fast) conference in Porto.
This collaborative endeavor has now made it into press with the publication of, 'The opposite of the band': fangrrrling, feminism and sexual dissidence in the Journal Textual Practice.
The benefits of this trip were expressed by Dr Lucy Robinson via the medium of photography (see picture, left) and more fully articulated in an entertaining blog written in November 2014.
Apply for a Santander Mobility grant
Applications are currently being invited from doctoral supervisors for Santander Mobility grants to support themselves and a doctoral researcher (not necessarily their supervisee) to undertake visits to institutions within the Santander network.
The deadline for applications is 16.00 on Friday 16th December.
To find out more, visit the Doctoral School funding webpages.