Thesis Boot Camp Returns
We are now accepting applications for our Summer Thesis Boot Camp - Apply by Friday 20th May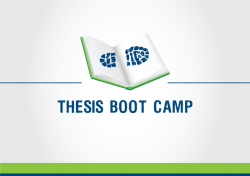 Following the success of our first event in December 2015, we are now accepting applications for the Summer Thesis Boot Camp, which will run from Friday 17th June to Sunday 19th June.
Aimed at late-stage doctoral researchers, the weekend is designed to provide a supportive and structured environment in which attendees can make significant progress with their writing. Thesis Boot Camp is a no-excuses, no-time-for-procrastination intensive writing weekend, dedicated solely to getting words down on paper (or a computer screen).
Last time, one researcher hit her goal of 20,000 words, with many others not far behind. This is a great opportunity to overcome procrastination and learn successful strategies for thesis completion.

Facilitated by Dr Catherine Pope and Dr Liz Sage, introductory sessions will include motivational talks, goal setting and strategies for writing quickly and well. Catering will be provided to ensure an encouraging, distraction-free environment. Attendees will be required to complete pre-program planning activities and to commit to their own tangible aims for the weekend, such as completing a thesis chapter draft or similar.
For more information, or to apply, please visit the Thesis Boot Camp webpage. Please note: Places are limited so early application is advised!
Feedback from Thesis Boot Camp 2015 participants
"It completely transformed the way I think about the writing process, and has transformed the way I think about my thesis. I now have absolute faith I can finish it, whereas before I seriously doubted that I could ever get it done!"
"The weekend far surpassed my expectations and is the most positive and helpful workshop/training I've attended over my PhD – can't recommend it highly enough, thanks!"
"I managed to get the best part of a chapter written and have found myself much more motivated to tackle my writing-up. I have come away with a sense that it is achievable, and that I am capable of submitting a good thesis."