Annual Review Guidelines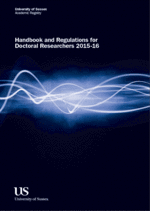 With the annual review period approaching we thought it might be useful to remind you of the guidance on the annual review process available within the Handbook and Regulations for Doctoral Researchers.
The process differs within each School, so please check locally on requirements as well. Although you should raise any concerns you may have at any point during the year, the process does also provide an opportunity you raise any problems you may be experiencing, or any areas where you might be better supported by your department and School.
If you are intending to request any changes to your registration as part of the annual review process, you may find it helpful to take a look at the range of forms available on the Research Student Administration Office website.