Over 300,000 words written at June Thesis Boot Camp!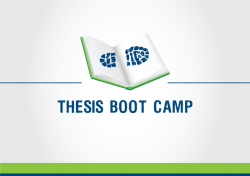 On Friday 17th June, a group of late-stage Sussex doctoral researchers gathered for an intensive thesis writing weekend, and achieved an amazing 300,000 word count between them.
Facilitated by Dr Catherine Pope (Researcher Development Officer) and Dr Liz Sage (Teaching Fellow in Teaching, Learning and Assessment in Higher Education), Thesis Boot Camp attendees benefited from motivational talks, learnt about goal setting and found out about strategies for writing quickly and well (when they weren't busy making progress on their theses).
With catering provided and activity breaks hosted by SussexSport, Thesis Boot Camp provides an encouraging, distraction-free environment in which doctoral researchers can get over that final hurdle, or kick start their writing progress if it has stalled.
Interested in taking part in the next Thesis Boot Camp?
The next Thesis Boot Camp will take place in Autumn 2016, and the call for applications will be released nearer the time.
Visit the Thesis Boot Camp webpage to find out more, including the eligibility criteria.