What do you do?
There are many staff in professional services across campus working to support doctoral researchers. In this item we highlight a staff member and service supporting the doctoral community & tell you a bit more about their role, and how they can help you.
Name: Helen Quin
Role: International Student Support Officer
Department/Division: International Student Support
Name: Joanne Chee
Role: International Student Advisor
Department/Division: International Student Support
What do you do?
Joanne - International Student Advisor
My role within the International Student Support Office involves providing advice and assistance to all international students at Sussex. This can be around all sorts of things - the practicalities of coming to the UK, settling into life at Sussex, and advice around what to do when you are nearing the end of your studies.
We offer advice for international students around immigration, registering with the police (certain nationals are required to register with the police as a condition of their visa), and all types of visas required to study in the UK, including:
Applying for a visa (for students and any dependents)
Extending a visa
Tier 2 visas
Working visas (for students who are near to completion of their studies)
Many doctoral researchers have dependents, and we work with those students to provide support to enable them to concentrate on their research. This might include information and advice about visas for dependents, working rights for dependents, or providing information and guidance around local schools.
Helen – International Student Support Officer
My role is mainly concerned with enhancing the experience of international students at Sussex, from before they arrive in the UK until the end of their studies.
My work involves development of the pre-arrival guide which is sent out to all international students before they arrive, and of our interactive online induction module which includes helpful advice about starting at Sussex and information about the various sources of support available. I also co-ordinate meet and greets at UK airports for students arriving in the UK for the first time, as well as providing practical guidance to international students on matters such as opening a UK bank account, or accessing the NHS.
In addition to our September welcome party and the range of inductions and welcome talks we organise, throughout the year we organise events and trips to some of the UK's most famous and historical places and attractions UK locations. We also organise larger-scale events such as One World Week, which we offer in collaboration with the University's Student's Union, and new initiatives such as Freshers of '15.
One World Week
One World Week is the University's annual celebration of the diversity of nationalities and cultures present at Sussex. Thousands of students took part in One World Week 2015 by attending the 72 events that were organised, and the third ever One World Week will be taking place in March 2016. Anyone within the University community can organise their own event to feature in the programme, and there is funding (up to £500 per event) available to financially support it.
If you'd like to organise an event for One World Week, the deadline for submitting an Event Proposal and Funding Application form to ISSOfficers@sussex.ac.uk is Friday 11th December. Even if you do not require any funding you will need to complete the Event Proposal section of this form and submit it by the same deadline in order for your event to be considered for inclusion in One World Week. You can find out more on the One World Week page of the Student's Union website.
Freshers of '15
The International Student Support Office are delighted to announce a new initiative, Freshers of '15. Freshers of '15 is a chance for new international students - including doctoral researchers - to share their views about life as an international student at Sussex. We're keen to hear about your experiences of starting at Sussex, and hearing how you get on as you progress with your studies.
By becoming one of the Freshers of '15, the information you share with us, in the form of short questionnaires, focus groups and blogs/vlogs will help to give international students at Sussex a voice on important issues and will be used to improve the
There are lots of benefits to getting involved in this new initiative, so if you started your doctorate in 2015, why not check out the information available on our website here.
What support do you offer to doctoral researchers?
We offer doctoral researchers the same high level of support available to undergraduate and taught postgraduate international students at Sussex.
Specifically for doctoral researchers, we also advise on the Doctoral Extension Scheme (DES) which international doctoral researchers can apply for when they are nearing completion of their doctorate. The Scheme enables completing doctoral researchers to seek or undertake work for a 12 month period after their doctorate. Interested students must apply before they officially complete their PhD though – check out the DES webpage for further information.
How can doctoral researchers get in touch?
Doctoral researchers can get in touch with the International Student Support Office by calling us on 01273 678422 or by sending an e-mail to international.support@sussex.ac.uk.
We also have a reception desk on the second floor of Bramber House, which is open Monday – Friday from 10.00 – 16.00. International doctoral researchers are welcome to pop into our reception area if they have a question or query relating to studying as an international student at Sussex.
We also run daily drop-ins for international students looking for advice in relation to immigration issues. These normally run from 14.00 – 16.00 but you can check online for our monthly drop-in schedule. In addition, we offer form-check appointments for international students in the process of applying for a Tier 4 visa or a visa for a dependent.
Doctoral researchers can also access a wealth of information on our webpages, and can pick up a copy of our Student Immigration Handbook from our reception in Bramber House, or the Research Student Administration Office in Sussex House.
What's the most common question you are asked by doctoral researchers?
The kinds of questions we are asked are really very varied – from how to open a bank account, or extend a visa, to questions around etiquette and traditional customs in the UK.
Doctoral researchers often approach us with questions about working after they complete their doctorate, or with queries about visas. You can find lots of really useful information on our webpages about working in the UK and immigration and visas.
Do you have any advice for international doctoral researchers who may be staying at Sussex over the festive period?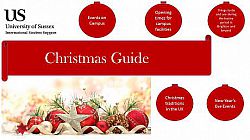 Each year we publish a guide to the festive period for international students, which will be particularly useful to doctoral researchers who are staying in Brighton over the Christmas Vacation.
The guide includes details of the many events, activities and celebrations taking place on campus and in Brighton and beyond during this period, as well as an introduction to some of the popular UK Christmas traditions and customs.
Within the guide you can also find details of the festive events that have been organised by the International Student Support Office, including our Christmas Quiz on Tuesday 15th December (15.00 – 17.00 at The Meeting House) and Christmas Lunch on Christmas Eve (Thursday 24th December, 11.30 for a 12.00 start at Falmer House).