Sussex linguist one of only three outside US to receive humanities grant
A Sussex academic has received a grant of over $50,000 from the National Endowment for the Humanities (NEH) to help write a book about the difference between American and British English.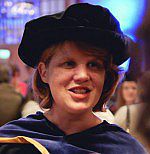 How America Saved the English Language will be based on a blog that Dr Lynne Murphy - a Reader in Linguistics at the School of English - has been writing for the past 10 years.
The blog debates whether good English is confined to our shores - and if the British might learn a few things from their cousins across the pond.
Dr Murphy, who was born in New York State, says: "I'm thrilled to have received this grant and I'm very lucky that the NEH allows US citizens abroad to apply for and receive such funding.
"It's especially thrilling to me because it acknowledges the value of communicating research to the general public and of education beyond the walls of our classrooms, which has been at the heart of my academic career."
A prolific tweeter about the nuances of the English language, Dr Murphy is one of only three US citizens living abroad to win any kind of NEH award – and succeeded against nearly 500 other applicants.
She intends to use her grant of $50,400 to take some time away from teaching to finish the book. Dr Murphy has also recently received a Leverhulme/British Academy small grant of £3,620 to fund travel to dictionary archives in the UK and US in 2016 to help research the book.
The NEH supports research and learning in subjects like history, literature and philosophy by funding selected proposals by US authors.
The award was made under the agency's new $1.7 million Public Scholar grant scheme for nonfiction books - an initiative to make humanities scholarship more accessible for book clubs and a fixture on the best-seller lists.
How America Saved the English Language: The facts and fictions of British and American English is due for publication in Spring 2017.