Formula Student team launch their highly evolved new vehicle
The University's Formula Student team officially launched on Tuesday (17 June) the car that will be entering the prestigious race at Silverstone next month.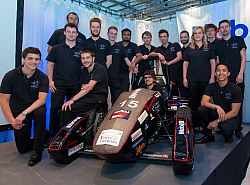 Formula Student is an international competition, run by the Institution of Mechanical Engineers (IMechE), which challenges university students to design, build, develop and compete as a team with a single-seat racing car.
Mobil1 Team Sussex 2014's vehicle was unveiled at an event in the Attenborough Centre for the Creative Arts (ACCA) Creativity Zone by Lord Lieutenant of East Sussex, Peter Field, and the University's Vice-Chancellor, Professor Michael Farthing.
Professor Farthing said: "Formula Student has become one of the key events for the University.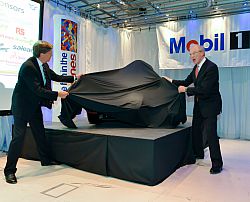 "We hope the team is going to win and although the outcome of the project is important, the process itself is what is really important."
The Vice-Chancellor was quick to offer his services should they need a spare as a driver.
The theme of the launch was 'evolution not revolution', which reflected the team's design philosophy whereby the many small improvements can make a big difference overall.
These changes included the addition of a front fin, a first for a Team Sussex car, and the use of eco-friendly flax in the bodywork which helps to keep the weight of the vehicle to a minimum.
After a short presentation from Team Leader, Sam Jewiss, the team took the opportunity to thank their many supporters including their project leader and the Head of School of Engineering and Informatics, Professor Diane Mynors.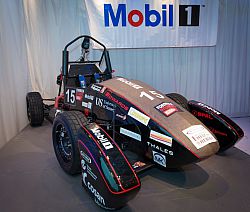 Professor Mynors said: "I may have given them a lot of help and support; I have also given them a lot of grief."
The event was also attended by Brighton & Hove's Mayor, Brian Fitch, who said: "I think this is a fantastic triumph for these students, it is amazing what they have achieved together as a team. I think is an honour for the University and the city."
Next week, the car will be taken to a specialist test centre in Essex where the team will gather data about the vehicle's performance. After that the car will be taken to Silverstone for the start of the Formula Student competition on 9 July.
Rupert Bravery, the team's Mobil1 advocate and honorary team member, said: "From a company point of view these guys are the life blood of our business. Aeroplanes still burn kerosene and someday someone will need to come up with an alternative so it's really important that we support science and engineering.
"From a personal point of view, these students will be paying my pension in a few years so I want them to be successful; it's not selfless at all!"
Team Sussex patron, Richard Atkins, said: "It has been a baptism of fire. They learned a lot of skills, not just engineering skills but interpersonal skills. I know these students will fly the flag for Sussex and I know they will do well."
Lord Lieutenant Peter Field, said: "Designers and engineers are an important part of what we have to offer the world. I think that they are what the country is going to rely on in the future and here at Sussex we have some key people going forward to secure that future."