Vogue gyratory improvements move into phase two
Phase two of work to make Brighton's notorious Vogue gyratory safer will start on Monday (18 August).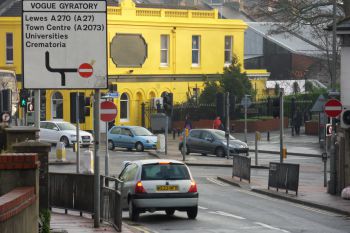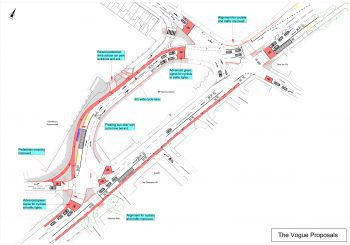 Changes include new traffic signals, an improved bus stop, a northbound cycle lane, and better pedestrian crossings and footways.
The following restrictions will be in place for approximately ten weeks while works take place to improve the junction, which many Sussex students and staff use in their journeys to and from campus.
Motorists and cyclists
Upper Lewes Road will temporarily be closed at the junction with Lewes Road, with no access to or from the gyratory. Access to all properties will be maintained via alternative routes and the rest of Upper Lewes Road will remain open.
The traffic lights at the southern end of the gyratory will be switched off and temporary lights will be in operation to assist pedestrians.
At times, the northbound carriageway on Lewes Road will be reduced to a single lane through the gyratory to ensure the safety of construction workers on site.
Other localised traffic management will be in place but only for short periods to facilitate the laying of cables for new traffic lights and to make adjustments to the alignment of some of the traffic islands.
Vehicle access to Sainsbury's and the BP petrol station will be maintained throughout the work.
Pedestrians
Temporary on-demand pedestrian crossings will operate while the old traffic signals are removed at the southern end of the junction. A safe route for pedestrians will be maintained at all times.
Pedestrian to Sainsbury's and the BP petrol station will be maintained throughout the work.
Bus passengers
The Sainsbury's bus stop will be suspended throughout this phase. To access Sainsbury's by bus, use either the Melbourne Street or Lewes Road Bus Garage stops.
All businesses and services within the area will be open as usual.
The Vogue gyratory scheme, which is due to be completed in December 2014, is part of a wider Lewes Road Improvement Scheme.
Further information on the scheme is available on the council's website. If you have any questions, E lewes.road@brighton-hove.gov.uk or T 01273 290219.