Students give Sussex top marks in satisfaction survey
Over 85% of Sussex students are happy with their experience at the University, according to the results of this year's National Student Survey (NSS), published on Tuesday (12 August).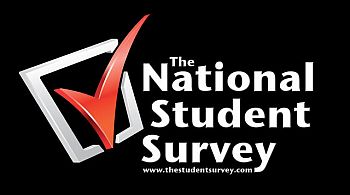 A record 2,059 final-year Sussex students took part in the government's annual poll of student opinion this spring, reflecting the growth in the University's student population over the past few years.
The University is in the top quartile in the UK for organisation and management. Professor Clare Mackie, Pro-Vice-Chancellor (Teaching and Learning), says: "I would like to thank all staff, especially those in the Professional Services, who work so hard behind the scenes to make sure that things run smoothly. It is a significant achievement that, despite a challenging external environment and a number of significant changes across the institution, our students still rate us as one of the most well-organised and best-managed universities in the country.
"I would also like to congratulate our Library and IT Services teams for once again delivering a fantastic service to our students."
For the second year in a row, Sussex students gave a record satisfaction score of 89% for learning resources, which includes the Library and IT Services. This supports the view that the University's investment of £10 million in improving the Library and IT infrastructure - providing new computers and a new high-speed internet connection that has increased speed and capacity across campus tenfold - was the right decision.
Satisfaction with IT Services is now at an all-time high of 89%. Satisfaction with the Library has soared from 74.9% in 2011 to its current score of 89%. The investment continues this year with a further refurbishment of the top floor of the Library to provide additional study spaces.
Sussex students also praised their lecturers and other academic staff:
91% said that staff are good at explaining things
87% found their course intellectually stimulating
89% said that staff are enthusiastic about what they are teaching
90% said that they have been able to contact staff when they need to
There are particularly strong performances in the NSS among individual subjects at Sussex. Anthropology (3rd), Chemistry (8th), Drama (1st), English (19th), Human Geography (10th), Medicine (3rd) and Physics and Astronomy (9th) are each in the upper quartile of higher education institutions across the UK offering that subject.
Brighton and Sussex Medical School (BSMS) - run jointly between the universities of Sussex and Brighton - has the second-most satisfied students of all UK higher-education institutions, with an overall satisfaction score of 96%.
Professor Mackie adds: "I am delighted that our students value our excellent academic staff as much as we do.
"Sussex has an established reputation for innovative and inspirational teaching and continues to attract leading thinkers and researchers who are working at the cutting edge of their field. We are a research-intensive university: 90% of our research is ranked as world-leading or internationally significant. Therefore our students are taught by staff who are international experts in their subject.
"We continue to invest in teaching and learning. In 2013 alone, we appointed nearly 200 new academic staff, including 30 new professors in subjects as diverse as Digital History, Environmental Law, and Statistics and Probability."
The University of Sussex Students' Union also received its highest-ever score of 71.9%. The President of the Students' Union for 2014-15, Abe Baldry, said: "I am delighted that students have recognised the positive impact that the Students' Union has on their time at Sussex. We've been working hard to involve a wider range of students in what we offer and have been expanding our events programme to include a diverse variety of activities. We're always interested in what students think and NSS is just one of the ways we gather feedback from students."
This year's NSS results also show a considerable improvement in student satisfaction with assessment and feedback.
Professor Mackie says: "We have listened to students and made changes, such as altering the structure of our academic year to include an exams and assessment period after Christmas as well as in the summer.
"We've completed a substantial programme of change to ensure the University remains among the best nationally and internationally in teaching, learning and assessment. We are now entering a period of consolidation and continuous enhancement, supporting staff and students to reap the benefits of these efforts.
"Work continues. All first-year students commencing study in 2014-15 will have access to a new, state-of-the-art electronic submission and assessment system that will radically improve the assessment process including the return of marks and feedback online.
"I'm delighted that so many of our students have made their voices heard about the things that matter to them. Their feedback is fundamental to driving change at Sussex for the benefit of current and future students and helps to make us the progressive and supportive academic community that we are."
The NSS is run by the Higher Education Funding Council for England (HEFCE) on behalf of the government and asks all final-year undergraduate students across the UK for their views on their university experience.