Sussex students compete in new series of 'University Challenge'
Four students from the University of Sussex press the famous 'University Challenge' buzzers in a programme set to be screened on BBC Two on Monday (18 August).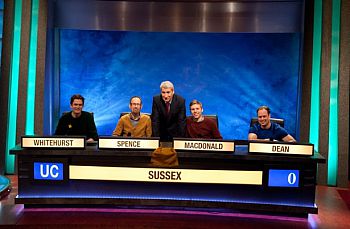 It is the first time since 2009 that a Sussex team has appeared on the long-running TV quiz show, which challenges students from UK universities to answer questions on all manner of academic subjects.
Out of the 140 or so universities that applied for the 2014-15 series, only 28 – including Sussex – made it through the regional qualifying heats to the televised rounds.
The team limbered up with a few rehearsals at the home of team member David Spence, a postgraduate on the MSc in Scientific Computation.
They practised with a 'University Challenge' quizbook and some toy buzzers, taking turns to perform the role of the show's notoriously impatient quizmaster, Jeremy Paxman. "The key thing was getting familiarity with the whole process," recalls David, "such as when to buzz."
Then they travelled up to Salford for the recording in front of a studio audience of Sussex's first-round clash against St Peter's College, University of Oxford.
"We were all rather excited about it," says David. "Everyone was nervous before the show," recalls team reserve Seb Zarrilli, a Physics with Astrophysics first year, "but we just wanted to get it over with and do the best we could."
Seb describes Jeremy Paxman as "surprisingly nice", and says "he did his best to make both teams feel comfortable". But Joss MacDonald, a BA History and Politics undergraduate, remembers Paxman as "suitably intimidating".
As team captain, Joss was responsible for buzzing tactics. "You have to remind yourself that never buzzing in will make you look more stupid than buzzing in and being occasionally wrong," he cautions.
Only four of the team got to appear on the show. Alongside David and Joss were Matthew Dean, studying Philosophy, and Thomas Whitehurst, whose MSc is in Cognitive Neuroscience. Seb, the unfortunate reserve, had to watch from the wings. "As team 'mascot', I tried my best to encourage everyone!" he says.
The questions covered everything from world history to confectionery – but they tend to focus on certain topics, and the Sussex heat against St Peter's demonstrated a bias towards poetry. There was also a whole set of questions on 1980s music. "The '80s were my era," says David, "but I couldn't get the first question right."
You will have to wait until the programme is broadcast at 8pm on 18 August to find out more about how the Sussex hopefuls got on.
"Since being selected for the Sussex team, I have barely watched a single episode," says Joss. "Watching it has made me too nervous about how our own appearance might come off."
Sussex has a glorious history on 'University Challenge' and is currently ranked equal third in the table of winners, having been champions twice (admittedly quite a while ago, in 1967 and 1969). Be warned, though: Sussex also gained a certain notoriety one year by scoring the lowest score ever – just 10!