Sussex takes back Varsity trophy from Brighton
University of Sussex sports teams triumphed over their local rivals at Brighton in the annual Varsity sports competition on Wednesday (2 April).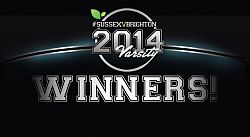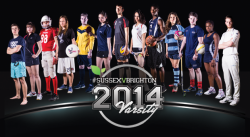 Nineteen of the Students' Union-run sports teams competed this year in the event which saw Sussex win the trophy for the second time in three years.
Richard Mashiter, Students' Union Activities Officer, said: "I'm so proud of our teams and our victory. It is an amazing way to end a successful year for sport at Sussex. I hope this inspires people to get involved in sport whether they are an elite athlete or a beginner."
The matches were held at sports facilities across both Brighton and Sussex campuses.
Sussex won 12 of the contests: cricket, men's badminton, men's basketball, men's tennis, netball, table tennis, ultimate Frisbee, volleyball, women's basketball, women's hockey, women's rugby and women's tennis.
They lost six matches: American football, men's hockey, swimming, women's badminton, women's football, and women's volleyball.
Brighton drew with Sussex in the men's football.
A full list of results can be found on the Students' Union webpages.