Sussex Lectures this autumn
Staff, students and visitors can enjoy a series of wide-ranging free lectures on campus this autumn.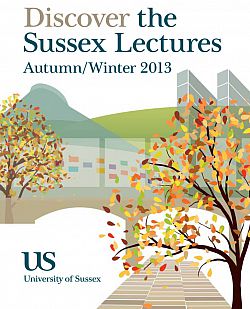 The Sussex Lectures, which are put on throughout the year to highlight the University's research expertise, will start again on 2 October with a professorial lecture by Andy Field, Professor of Child Psychopathology.
There will be three other inaugural professorial lectures by Jim Watson, Professor of Energy Policy Science and Technology Policy Research in SPRU (6 November); Gordon Ferns, Professor of Medical Education at BSMS (12 November); and Heather Keating, Professor of Criminal Law and Criminal Responsibility (4 December).
Poet and editor of Modern Poetry in Translation, Sasha Dugdale, will read a selection from her poetry collections, including her own translations of Russian poets, on 8 October.
Professor Naila Kabeer (University of London) will trace the connections between collective action and citizenship on 14 October
'The Black Mountain College trace', the first Centre for American Studies lecture (17 October), will feature the art, film and poetry of Basil King and his partner, Martha King.
Professor Dame Carole Black, Advisor on Work and Health at the Department of Health, will explore 'good work' and the detrimental effect of unemployment on health in the BSMS Annual Discourse on 21 October.
'The surrender of privacy: is the state to blame?' will be tackled on 23 October by Lord Carlile of Berriew CBE, QC.
Award-winning author, Professor Eric Lott (University of Virginia), will lead the second Centre for American Studies lecture entitled 'Obama unchained' on 31 October.
Emeritus Professor Angela Little (University of London) will discuss Sri Lanka's shift from an agricultural economy to one dominated by manufacturing (11 November) as part of the Education and Social Work Seminar Series.
Dr Micheline Maupoint (University of Sussex) will consider the role and impact of political cartoons in contemporary France in the second lecture in the Language and Culture Series on 19 November.
Other forthcoming Sussex Lectures include:
'Uncertain knowledge: exploring quantitative data from a qualitative perspective' – by Professor Gemma Moss (University of London) – will be held on 21 October.
A Sussex Centre for Intellectual History lecture by Dr Duncan Kelly (University of Cambridge) will examine 'Revolutionary foundations in the intellectual history of political thought' (23 October).
Associate Professor Jenny Moon (Bournemouth University) will discuss the setting up and issuing of learning journals for personal use on 28 October.
'Missing bodies: disappearances in the aesthetic' takes place on 28 November, led by Professor Michael Davidson (University of California).
Professor Tony Evans (University of London) will examine 'Managerialism discretion and the corrupted world of policy practice' on 9 December.
The series concludes with the Founding Historians' Lecture, 'Divided in 1863: sesquicentennial reflections on the American Civil War' (10 December), when Professor Catherine Clinton (Queen's University Belfast) will offer contemporary insights into the war's lasting significance.
Speaking about the Sussex Lectures, Professor Michael Farthing, Vice-Chancellor, said: "This really is the beauty of academic research – it covers everything you can imagine. We want to celebrate this rich mixture and share it with friends, colleagues, alumni and the community."
All lectures are free of charge and everybody is welcome to attend, but you are asked to book your place as indicated for each lecture as numbers are limited. To find out more about each lecture, go to Events.
Selected lectures will be available online shortly after the event at the Sussex Lectures archive.