Christmas cards show fireworks at the 50th
This year's Sussex Christmas card shows fireworks reflected in the large windows of Falmer House.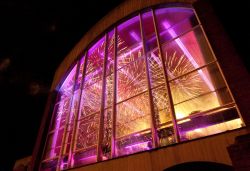 Chris Effner from Media, Film and Music took the image in September 2011, when more than 2,500 current and former students and staff returned to Sussex as the University launched its 50th-anniversary celebrations with a campus party.
The cards are available to order now, at 50p each(including envelope), and will be printed by early December.
A limited number will also be on sale in smaller quantities from Sussex House reception during December.
To order cards, email Sara Adamson in Publications by 25 November on s.adamson@sussex.ac.uk, with your budget code and the number of cards you would like.
There will also be an e-card (to send by email), which will be a short film 'review of the year', narrated by the Vice-Chancellor.