Employers at graduate fairs impressed with Sussex students
The University's annual graduate-recruitment fairs this month attracted a large number of employers and organisations onto campus.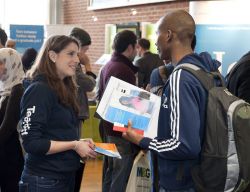 The Science, Engineering and IT Fair on 2 November and the Finance, Business and Law Fair on 8 November gave Sussex students the opportunity to speak directly to employers with internships and graduate jobs.
The 62 organisations attending included ACCA, Baker Tilly, Cummins, DMH Stallard, Logica, Santander, the Training and Development Agency for Schools, and Westgate Chambers.
The overall message from employers was positive: they do have lots of vacancies and are actively targeting Sussex students.
Andrea Wall, Employer Engagement Manager in the Careers and Employability Centre, said: "Employers were impressed with the University, the organisation of the fairs and - most importantly - our students, commenting that they were organised, focused and well prepared.
Employers were impressed that the students asked relevant questions and were able to offer the skills that recruiters look for.
One public-sector employer found students "articulate, intelligent and thoughtful", while a local engineering firm valued the "high attendance figures, good engagement and standard of students and high interest in our company".
Many students welcomed the opportunity to talk directly to employers. One biomedical student said it gave her a "great chance to explore new things", while a third-year Economics student liked the fact that she was "given the chance to explore the different sectors".
Andrea said: "This was the first time that the fairs had been split into two sector-specific events and we are delighted that it has worked so well, with 1,400 students visiting over the two days. These are the flagship events in our 'Employability Accelerator' programme."
The next major employer events will be part of the 'Make it Happen' programme in the spring term.
Andrea said: "In conjunction with the Development and Alumni Relations Office, we will have a number of alumni coming back to Sussex to talk about careers in the media, public sector and government, development and charities. These talks will be complemented by mini recruitment fairs.
"We are demonstrating to students that there are jobs available and employers who want to recruit them."