Prison inspector "kept awake" by shameful treatment of women inmates
The treatment of women prisoners in England and Wales is shameful, Her Majesty's Chief Inspector of Prisons said in a lecture on campus last month.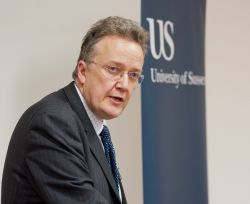 In a highly critical lecture – organised by the Sussex Law School - Nick Hardwick said the circumstances of the women held in the Keller Unit of Styal Prison in Wilmslow, Cheshire, were "more shocking and distressing than anything I had yet seen on an inspection".
"We can't go on like this," he said.
"Prisons, particularly as they are currently run, are simply the wrong place for so many of the distressed, damaged or disturbed women they hold.
"The treatment and conditions in which a small minority of the most disturbed women are held is - in relation to their needs - simply unacceptable.
"I think - I hope - we will look back on how we treated these women in years to come, aghast and ashamed."
"This is a responsibility that lies squarely at the door of successive governments and parliament," he added.
Mr Hardwick was reflecting on the lack of progress in women's prisons since the 2007 Corston Report, which outlined "the need for a distinct radically different, visibly-led, strategic, proportionate, holistic, woman-centred, integrated approach".
If men were as repeatedly violent to other prisoners in the way women prisoners were to themselves, it would be treated as "a national responsibility" whereas in the case of women, local prisons were left to manage as best they could, he said.
Women make up only 5% of the total prison population, but account for almost half of all self-harm incidents in prisons, he said.
He added that a "long chain of men", from wing officers and governors to prison chiefs and a male chief inspector, "may not be the best structure to respond to the physical and emotional needs of some very troubled women".
The lecture was part of the 'Issues in Criminal Justice' series at Sussex - convened by Professor Stephen Shute, Head of the School of Law, Politics and Sociology, on behalf of the Sussex Law School - and given by leading UK figures including government ministers and senior members of the judiciary.
Professor Shute said: "In this disturbing lecture, Nick Hardwick laid bare some of the unacceptable treatment and conditions still experienced by women prisoners in this country.
"His hard-hitting talk fitted perfectly with the ethos of the Issues in Criminal Justice lecture series, which brings some of the most eminent figures in the UK to Sussex to offer no-holds-barred reflections on how our criminal justice system might be improved."
Previous high-profile speakers have included the former head of the Metropolitan Police, Lord Blair, and Dominic Grieve, the Attorney General.