Obituary: Dennis Cox
Dennis Cox, founding Librarian at the University of Sussex, died on 28 February, aged 91.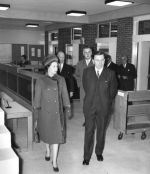 Dennis Cox was one of the first people to be appointed at Sussex, arriving from the University of Leeds, where he was Deputy Librarian, in September 1960.
Originally based in Stanmer House, he was instrumental in creating a new vision for academic libraries, placing far more emphasis on the needs of students than had previously been the case and working closely with architect Sir Basil Spence on influencing the design and functionality of the new Library building.
Impressive collections were rapidly built up under his leadership, with Library holdings doubling in size between 1962 and 1963. By the time the Library was officially opened by the Queen in November 1964, it had a stock of 80,000 volumes.
He returned to the University of Leeds as Librarian in 1968, retiring in 1986.
Dennis was awarded the Legion d'Honneur in 2004 in recognition of his distinguished service as a liaison officer on a French submarine patrolling the Mediterranean during WW2.