Artist to artist: Deller's film tribute to art icon previews at Brighton Festival
Brighton Festival goers will be able to enjoy a University of Sussex-sponsored sneak preview of Turner Prize winner Jeremy Deller's film tribute to Bruce Lacey – ahead of a major London retrospective of the iconic artist's life and work this summer.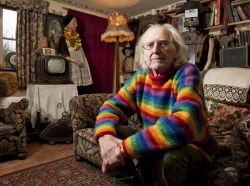 The film - The Bruce Lacey Experience – will be shown at the Corn Exchange in Brighton, on Monday 14 May at 8pm, followed by a talk involving alumnus Jeremy Deller and his former Sussex tutor, Professor David Allan Mellor.
The Bruce Lacey Experience reflects on the life, art and passions of Lacey – inspiration of the 1960s avant garde set and of contemporary art – and is the result of a three-year collaboration between Jeremy Deller and the music video director and documentary maker Nick Abrahams.
The film – enabled by the University, which is also sponsoring the Festival preview – forms part of a series of London events involving Jeremy Deller and celebrating Lacey's vibrant legacy.
The official premiere for the film will be at the British Film Institute Southbank in London on 5 July.
Partnering the film is an exhibition at Camden Arts Centre (The Bruce Lacey Experience,16 July–16 September) of Lacey works co-curated by Jeremy Deller and Professor Mellor.
Jeremy Deller says: "Bruce's life is almost too big to be contained by a film – it is as unbelievable as it is varied."
Described variously as an eccentric 'maker and doer', visionary and counter-culture icon, Lacey is best known for his work with Spike Milligan and The Goons, The Beatles (he played George Harrison's flute-playing gardener in the group's film Help!), film-makers Dick Lester and Bob Godfrey, the performance artist Jill Bruce and folk-rock legends Fairport Convention.
Now living in Norfolk, still performing and surrounded by his sublime, bizarre creations, Lacey is a living link between the absurdist art of the postwar counter culture scene and the New Ageism and multimedia creativity of later years.
Professor Mellor says: "Jeremy's film is more than just documentary. It's an homage to Bruce and a work of art in itself by a new artist, giving a compelling example of what arts practice should be."
Tickets cost £10 and can be booked at the Brighton Festival website.