UCAS Convention returns to Sussex campus
More than 6,000 sixth-form and college students from across East and West Sussex attended the Sussex UCAS Convention last week, which was held over two days in the Sport Centre.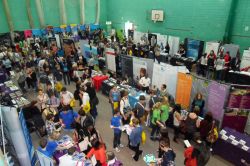 It was the first time since 2009 that the event had been held on campus.
The convention gave students who are thinking about applying to university an opportunity to speak to representatives from 132 different higher education providers and ask them about what their institution offers.
David Winstanley, Head of Undergraduate Student Recruitment, said: "As well as enabling students to speak to more than 130 universities, the event also gave us an opportunity to showcase our beautiful campus to an enormous number of prospective students."