Joshua shows he's no clown when it comes to business
A student's money-making scheme to bring a taste of the circus to people's nights out has won the University's annual business ideas competition.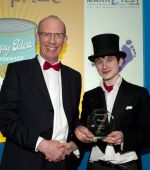 Joshua Feldman, an English undergraduate, fought off the competition of 500 fellow students to be crowned the winner of the campus-wide 2012 Enter-priZe competition on 14 March.
Joshua's idea was 'House of Fun' - a travelling circus that takes over nights in clubs and theatres. He won £500 plus an Enterprise Kit containing £500 worth of market research from sponsor Marketest, books, podcasts, and a mentoring session with Julia Chanteray (president of the Chamber of Commerce and founder of The Joy of Business).
Runners-up this year - Ashley Guest and Cara Winter - each received £125 plus an Enterprise Kit containing books, podcasts and items to help get their ideas off the ground.
All three finalists presented their ideas at an awards dinner, held in Dine Central, Bramber House, to an audience made up of University staff, local entrepreneurs and students who entered the competition at the various stages.
Prizes for all three finalists were presented by Professor Bob Allison, Pro-Vice-Chancellor (Research).