Clinical research unit awarded £3m
The work of researchers from Brighton and Sussex Medical School (BSMS) at a hospital-based research unit has been secured for a further five years by the award of £3 million in funding.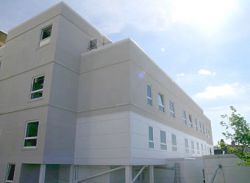 The Clinical Investigation and Research Unit (CIRU), which is based at the Royal Sussex County Hospital in Brighton, has been awarded funding by the National Institute for Health Research (NIHR).
The unit's continued funding amounting to £3 million over the next five years represents a 30% increase on previous support received from the NIHR.
At the unit, researchers from BSMS and the Brighton and Sussex Universities Hospitals NHS Trust have a dedicated space where they carry out investigative clinical and translational research.
Professor Peter Schmid, Clinical Director, says: "This core funding secures our research infrastructure for the next five years and will enable us to continue and expand our successful research activities."
Dr Alistair Ring, Clinical Director, adds: "We will be able to continue to support local academic research, build upon our existing commercial trial portfolio and deliver high-quality teaching, training and research opportunities for health care professionals.
"Perhaps most importantly we will continue to be able to offer patients access to novel treatments and involvement in high-quality research close to home."
At the unit there are facilities for patients to receive drug infusions, have outpatient consultations and undergo investigations including echocardiograms, bone density scans and vascular monitoring.
The on-site laboratory facilities mean that samples taken from patients can be rapidly processed and analysed using state-of-the-art equipment.