Obituary: Dr John Birch
Civilised and convivial, a twinkle heralding the arrival of yet another humorous anecdote from his seemingly endless collection, Dr John Birch was a consummate professional musician admired everywhere - including by generations of Sussex students.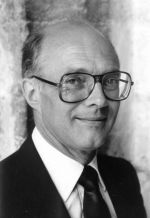 Dr Birch, who died aged 82 on 28 April following a severe stroke at his home in Chichester, was University Organist from 1967-94.
He was also Visiting Lecturer in Music, teaching keyboard harmony (in a variety of cubby holes in Arts B, Sussex House and even the Mantell building) from 1971-83.
Appointed Organist and Master of the Choristers of Chichester Cathedral at the age of 29 in 1958, where he stayed until 1980, he was commissioned to design the organ in the new Meeting House at Sussex in 1966.
He conducted both the Meeting House Choir (with, then, a full complement of organ scholars and choral scholars) and the University Chamber Choir.
He directed the annual 'Messiah' from scratch (for students, faculty - and on occasion - inmates from Lewes Prison, for whose sensitivities he tended to refer to "measures" rather than "bars", and to omit "Let us break their bonds asunder" altogether).
With the late Stephen Medcalf he devised the annual Christmas carol services (once broadcast live on BBC Radio Brighton) and he gave regular brilliant lunchtime organ recitals every term.
An honorary MA was conferred on him by Sussex in 1971 and he was later awarded an Honorary Lambeth Doctorate of Music by the Archbishop of Canterbury.
He played the organ for degree ceremonies until his many other roles meant he had to record the music for use in absentia.
John also played the organ for a Canadian television recording of Yehudi Menuhin conducting Brighton Festival Chorus in excerpts from 'Messiah' in the Meeting House in 1978.
He was appointed when Dr Daniel Jenkins (father of Sir Simon) was University Chaplain, served under three more and as many vice-chancellors. Such was his continued interest in the University, John attended the first major social event of the Suss-Ex Club for former staff, a dinner at the House of Lords, a few years ago.
Still Organist to the RPO and Curator-Organist at the Royal Albert Hall, he played for a number of concerts in the Albert Hall earlier this year and maintained his bonhomie and joie de vivre almost to the end.
Roger Walkinton, choral scholar 1977-81 and acting organ scholar 1980-81