Students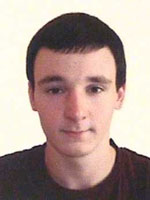 Robert Redwood (BSc Computing & Artificial Intelligence, 2009) was awarded the MacQuitty Prize, the University's top science prize. The prize is worth £10,000 and is awarded each year by Dr Jonathan MacQuitty, a Sussex alumnus, to the highest performing undergraduate student in the sciences.

Kate Howland (DPhil Informatics) was awarded a Google Europe Anita Borg Scholarship in recognition of her academic achievement and leadership. Scholarship recipients each receive €5,000 and are invited to visit Google's European Engineering Centre in Zurich for a networking retreat.
Staff

Dr Paul Newbury was the 2011 recipient of a University of Sussex Teaching Fellowship, worth £5,000; this funds a study comparing the effect on student engagement of various methods of digital lecture capture.

Prof Owen Holland (Emeritus Professor) and collaborators at the Universities of Sheffield and the West of England were awarded the prestigious Rooke Medal by the Royal Academy of Engineering, for their EPSRC-funded public engagement project 'Walking with Robots'.

Prof Peter Cheng was elected Chair of the Governing Board of the Cognitive Science Society, 2009-11.

Prof Anil Seth holds a Leadership Fellowship from the Engineering and Physical Sciences Research Council, the only fellowship awarded to a computer science researcher in 2008.

Prof Bernard Weiss (Emeritus Professor) is a Fellow of the Royal Academy of Engineering.

Prof Margaret Boden is a Fellow and former Vice-President of the British Academy, Fellow of the American Association for Artificial Intelligence (AAAI), former Vice-President (and Chairman of Council) of the Royal Institution of Great Britain, and was awarded an OBE "for services to Cognitive Science". She is the 2013 winner of the Covey Award from the International Association for Computing and Philosophy, for her lifetime achievements in the area of computing and philosophy.