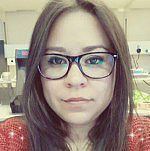 Ms
Patricia Ivette Cornelio Martinez
Biography
I am a second year PhD student at the Interact-lab from the Department of Informatics of the University of Sussex. My research work is focused in the field of Human-Computer Interaction and the Sense of Agency with supervision from Prof Sriram Subramanian.
Before joining the Interact-lab, I received my MSc in Electronics at the National Institute of Technology of Mexico.
Research Interests
I am interested in exploring how the experience of agency can be influenced by interaction paradigms such as touch-less technology, mid-air interfaces and Virtual Reality (VR), and how this experience can be quantitatively measured in novel application scenarios.
---
Publications
"Agency in mid-air interfaces"
Cornelio Martinez Patricia; De Pirro Silvana; Vi Chi Thanh; Subramanian Sriram(2017)In: ACM CHI Conference on Human Factors in Computing Systems (CHI 2017) ,May 6-11, 2017 ,Colorado Convention Center, Denver, CO, USA.