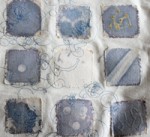 Ms
Anna Dumitriu
Biography
Anna Dumitriu's work is at the forefront of art and science collaborative practice, with a strong interest in the ethical issues raised by emerging technologies. Her installations, interventions and performances use a range of biological, digital, and traditional media including live bacteria, robotics, interactive media, and textiles. She has a strong international exhibition profile, having exhibited at The Science Gallery in Dublin, The Museum of Contemporary Art (MOCA) Taipei, and The V & A Museum in London. Her work is held in several major public collections, including the Science Museum in London. Dumitriu is known for her work as founder and director of "The Institute of Unnecessary Research", a group of artists and scientists whose work crosses disciplinary boundaries and critiques contemporary research practice. She recently completed a Wellcome Trust commission entitled "The Hypersymbiont Salon", is collaborating as a Visiting Research Fellow: Artist in Residence with the Adaptive Systems Research Group at The University of Hertfordshire (focussing on social robotics) and (Leverhulme Trust 2011) Artist in Residence on the the "Modernising Medical Microbiology" Project at The University of Oxford. She holds a Visiting Research Fellowship in the Department of Engineering and Informatics, and holds an honorary artist in residence role in the Centre for Computational Neuroscience and Robotics. She frequently collaborates with Brighton and Sussex Medical School. Her major international project "Trust me I'm an artist, towards an ethics of art/science collaboration" (in collaboration with Professor Bobbie Farsides (BSMS), Waag Society in Amsterdam and The University of Leiden) investigates the novel ethical problems that arise when artists create artwork in laboratory settings. She was winner of the 2012 Society for Applied Microbiology Communication Award and her current project "The Romantic Disease: An Artistic Investigation of Tuberculosis" is funded by The Wellcome Trust. She is artist partner with Waag Society on the EU FET FP7 funded project "ICT and Art Connect".
http://unnecessaryresearch.org
http://theromanticdisease.tumblr.com/
Role
Visting Research Fellow in the School of Engineering and Informatics and honorary Artist in Residence in The Centre for Computational Neuroscience and Robotics and Visiting Research Fellow in The Department of Informatics. Course leader on "Creative Communication: Art and Medicine" SSC at Brighton and Sussex Medical School.
Community and Business
Anna Dumitriu artist partner with Waag Society in Amsterdam (NL) on the EU FET FP7 funded project "ICT and Art Connect" which aims to bring together art and technology communities to develop co-creation and public engagement projects.