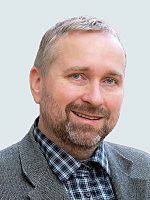 Dr
Ronald Grau
Post:
Teaching Fellow in Computer Science and (Informatics)
Other posts:
Associate Tutor (Informatics)
Location:
CHICHESTER 2 2R302
Email:
R.R.Grau@sussex.ac.uk

Telephone numbers
Internal:
8045
UK:
01273 678045
International:
+44 1273 678045

Research expertise:

Artificial Intelligence

,

assessment

,

Business Intelligence

,

Cognitive Science Applications in ICT

,

Decision Support (AI)

,

digital media

,

HCI for Group Decision Making

,

Information Systems

,

Information visualisation

,

Knowledge Acquisition

,

Knowledge Elicitation

,

Knowledge Representation

,

Multimedia

,

Programming Languages

,

Requirements Capture

,

Scientific Computing

,

Software Engineering

,

Visualisation of Information and Databases

download vCarddownload vCard to your mobile
Role
I have been a Postdoctoral Research Fellow in the Department of Informatics until recently, working in a project about the Cognitive Science of tactile graphics. I now work as a Teaching Fellow in CSAI.
This research aims to provide insight into the perceptive and cognitive processes related to tactile graphics and so inform efforts to develop more effective designs. Eventually, such novel designs, I hope, may be helpful to improve the utility of tactile graphics for visually impaired people.
A major element of my work is the development of software for data elicitation (Android) and data analysis (Java), as well as computational models of hand and finger movement.
Over a longer period, I have been working in areas related to the design of representational systems and interactive knowledge tools for complex domains; compositional modelling; computer graphics, diagrammatic representations, as well as knowledge acquisition with diagrams.