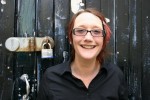 Dr
Lucy Robinson
Biography
I went to Oxford Brookes University as a mature student and took a joint honours degree in English Studies with History. I then moved to Sussex to take the English Literature masters programme, Sexual Dissidence and Cultural Change. After which I moved back into History for my Dphil research, 'Gay Men and the Revolutionary Left in Britain since 1957 - Tracing the development of Identity Politics', which was awarded in 2003. It was published as 'Gay Men and the Left in Post-war Britain: How the personal got political' by MUP in 2007. Since my appointment at Sussex I have been developing teaching and research in the History of the 1980s.
Role
As well as teaching undergraduate and postgraduate courses on Contemporary British History, I am Year Two Tutor and involved with facilitating a number of student led initiatives. I am also academic lead one the teaching led digitisation project Observing the Eighties
Community and Business
Lucy is an active member of The Brighton Salon and a regular judge for the 6th form debating competition Debating Matters. She has worked with museums, community groups and local history groups. Lucy has worked with veterans artists and writing from the Falklands War in two projects MARS (Morality and the Representation of Suffering) and Translate Trauma. In 2011 Lucy co-launched a collaborative project with musicians, fans, documentary makers and broadcasters looking at rockumentary - musicDOC11. She also co-authored an influencial report on the kettling of young protestors. Political Protest and the Police: Young People in Brighton, Centre for Applied Philosophy, Politics and Ethics. 2011. Her work on the JISC funded digitalisataion project 'Observing the Eighties' has gained considerable press attention. She is also co-founder of a new archive 'Subcultures, Popular Music and Social Change', which has recently been awarded an AHRC network grant
My research so far has covered the history of sexuality, identity politics and the Left throughout the twentieth century. I also work on the history of youth and youth culture (particularly counter-culture) as well as on popular culture, the theatre and literature. Specific research areas are: Homosexual law reform, Gay Liberation, activism and terrorism, the 'Loony Left', Punk, Anti-Nazism and Rock against Racism, Paedophile organisations and the campaigns around AIDS. I am now working on the relationship between popular culture and politics in 1980s Britain and contemporaray protest.
I have more recently been exploring a number of ways in which historians can connect with outside communities particulary through popular cultural representation. For example I have been working with Falklands veteran writers and artists in a research project that brings together Life History, History and Neuroscience in a project called Translate Trauma and the Jisc funded digitisation project Observing the Eighties.
I was jointco-ordinator of Morality and the Representation of Suffering (MARS). http://www.marsproject.co.uk/index.html. MARS works with veterans and war photographers to explore the ethics of shared narratives of war.
I co-ran musicDOC11 a collaborative project with documentary makers, broadcasters, archivists and musicians on music documentary history and practice. http://www.musicdoc.org.uk/ You can find out more about musicDOC11 in this interview for MusicFilmWeb http://www.musicfilmweb.com/2011/07/lucy-robinson-history-music-films/
I am also one of the organisers of the new Interdisciplinary Network for the Study of Subcultures, Popular Music and Social Change which has recently been awarded an AHRC network grant.
http://www.reading.ac.uk/history/research/hist-subcultures.aspx.
I am academic lead on the innovative JISC funded project Observing the Eighties which will create a digital archive of the 1980s, including holdings of the Mass Observation Project, British Library Oral History Collection and the Sussex University Documents Collection. We are producing an open access education resource. http://blogs.sussex.ac.uk/observingthe80s/about/
There is recent coverage of the project here http://www.guardian.co.uk/commentisfree/2013/feb/24/1980s-time-forgot-digital-archive
A further development of this project has been SCARLET+ to explore the use of augmented realities in university teaching. http://teamscarlet.wordpress.com/2012/07/31/scarlet-adding-augmented-reality-to-the-university-of-sussexs-toolkit/

I am currently writing a book on the relationship between popular culture and politics in the 1980s.

I currently teach the Second Year Time and Place course '1984: Thatcher's Britain', Britain in the Twentieth Century and the first year course The History of Now. I co-teach the Second Year thematic 'The Sixties'. At masters level I have taught a course on the Falklands War and the video documentary option.
I supervise Dphils who are situated in both the History and Media departments.
In 2008 I received a University of Sussex Teaching Award
Student Consultation
A171
Tuesday 11-12
Wednesday 2-3