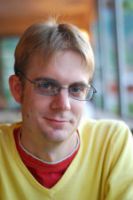 Dr
Chris Kempshall
Biography
My recently completed DPhil research examines the relationships and interactions between British and French soldiers on the Western Front of the First World War.
In February 2012 I was selected to participate in an AHRC collaborative workshop to inform and influence BBC thinking around their centenary coverage.
I am also a contributor to the open educational resources project WW1 Continuations and Beginnings organised in conjunction with the University of Oxford and JISC
I began at Sussex in 2002 studying Media Practice and Theory at Undergraduate level. I was able to take numerous History classes alongside my Media major and build up my interest in the representations of modern conflict.
In 2005 I took my MA in Contemporary War and Peace Studies also at Sussex.
In January of 2008 I returned to university to begin studying my DPhil.
I was also an inaugural Research Hive Scholar in the library.
Role
I am currently a Visiting Research Fellow to the Centre for the History of War and Society. I have been an Associate Tutor at the University of Sussex for several years where I have taught and lectured on the First World War.
Qualifications
PhD - Contemporary History at the University of Sussex 2013. Thesis title: Unwilling allies?: Tommy-Poilu relations on the Western Front 1914-1918

MA - Contemporary War and Peace Studies at the University of Sussex 2006
BA (Hons) - Media Practice and Theory at the University of Sussex 2005
Activities
CONFERENCES
11 June 2009
Sussex University HUMS Conference: Transitions – An Interdisciplinary Conference, Lewes
Invited Chair for panel 'Identity, the East and the West'

11-12 July 2008
War, Representation and Documentary Conference
University of Sussex
Co-Organiser
NEWSPAPER ARTICLES
Other Activities