PAST, PRESENT, FUTURE
MONDAY 7 MARCH
Symposium: all day - Arts A108
Keynote: 6.00 p.m. - Jubilee 144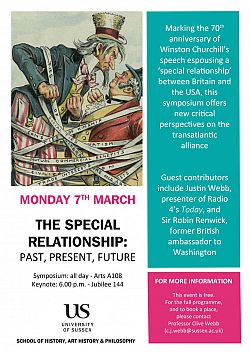 Marking the 70th anniversary of Winston Churchill's speech promoting a 'special relationship' between Britain and the United States, this symposium offers new critical reflections on the transatlantic alliance.
Special guests include Justin Webb, presenter of BBC Radio 4's Today, and Sir Robin Renwick, former British ambassador to Washington.
For more information, and to book a place, please contact Professor Clive Webb (c.j.webb@sussex.ac.uk).
9:00-9:30 – Welcome and Coffee – Arts A108

9:30-10:45 – FULTON, MISSOURI, 5 MARCH 1946 - Chair: Anne-Marie Angelo (Sussex)


Alan Dobson (Swansea), The Economic and Political Backdrop to the Fulton Speech

Steve Marsh (Cardiff), Churchill and the discursive construction of special Anglo-American relations


10:44-11:00 – coffee

11:00-12:15 – RELIGION AND RACE - Chair: Robert Cook (Sussex)

Dianne Kirby (Ulster), The Religious Dimension of the Anglo-American Relationship

Clive Webb (Sussex),

Race, Empire and the Special Relationship





12:30-1:15 – US AND THEM - Chair: Clive Webb (Sussex)
1:15-2:00 – lunch


2:05-3:40 – CULTURE AND COMMEMORATION - Chair: Claire Langhamer (Sussex)
Sam Edwards (Manchester Metropolitan), The Architecture of a Myth: Constructing and Commemorating Churchill's Special Relationship, c. 1919-66

David Alan Mellor (Sussex), Pictorial Double-Takes: Airstrip One/USA, in War and After

Alban Webb (Sussex), The Special Broadcast Relationship


3:40-4.00 – coffee

4:00-5:15 – BRITAIN, THE UNITED STATES AND THE WORLD - Chair: Tom Adam Davies (Sussex)
Todd Carter (Oxford), The moment Kissinger finally 'discovered Africa': Anglo-American relations and the Rhodesian crisis, 1976

Stephen Burman (Sussex), The Special Relationship: A view from the Inside
6:00-7:00 – KEYNOTE ADDRESS – Jubilee 144 - Chair: Stephen Burman (Sussex)
Lord Renwick of Clifton, How long will the Anglo-American "special relationship" survive?