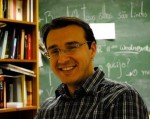 Mr
Ali Huseyinoglu
Biography
I obtained my BA and MSc in International Relations from the Middle East Technical University(METU)-Ankara/Turkey with grades 3.18/4.00 and 3.93/4.00 respectively. My MSc thesis was on continuities and changes in the Greek minority policy of Western Thrace and it was awarded with the 'Best Thesis of 2005' at METU in 2005.
After completing my military service in Greece in 2006, I started my PhD at the University of Sussex in 2007.
Role
DPhil Candidate in International Relations
Minority rights issues, international protection of minorities, Greek-Turkish Relations, Greek minority policy, and Minority education in Western Thrace.

My Doctoral Research is about the education of the Muslim Turkish Minority of Western Thrace in Greece (1923-2008).
The project has an interdisciplinary approach combining the main notions of Anthropology with International Relations within the context of this case study.
It seeks to explore the development of the Minority education from early 1920s until late 2000s.
My Supervisors are
Mr. Zdenek Kavan (Department of International Relations)
Prof. Jane Cowan (Department of Anthropology)