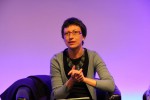 Ms
Violeta Vajda
Biography
Violeta writes about the role that critical whiteness theory can play in Romani Studies and how it may be possible to re-conceptualize non-Roma identity so that it becomes a progressive and positive driver that can ultimately underpin the emancipatory efforts of the Romani movement.
Since 2014, she has worked as the Resident Program Manager for the National Democratic Institute (ndi.org) in Hungary. She has managed a series of regional programs in Central and Eastern Europe, focused on grassroots activism in Romani communities; Roma political and civic participation; interfaith and interethnic coalition building; and participatory action research in Roma communities.
Violeta also works as a consultant and researcher with the University of Sussex and the Institute of Development Studies in the United Kingdom on projects related to racism and discrimination, most recently in collaboration with the Swiss Agency for Development and Cooperation (SDC).
Prior to joining NDI, Violeta worked as an advocacy advisor and manager of programs related to Roma rights, active citizenship and volunteering across Central and Eastern Europe, the Western Balkans, Central Asia and China. She has more than 20 years of experience working with NGOs in Central and Eastern Europe and over 10 years of experience in creating and sustaining partnerships with local nongovernmental organizations (NGOs), European networks, and international organizations.
Violeta was born in Timisoara, Romania and has lived for many years in London, UK, before moving to Budapest, Hungary with her son and mother. She holds a first degree in Finances and Accounting from the University of Timisoara, as well as an MSc in Development Management and a Postgraduate Diploma in Conflict and Development from the Open University in the UK.
Role
Violeta Vajda is a Romani Studies researcher with the University of Sussex and the Institute of Development Studies. Her provisional PhD title is 'Reading the in-between: a non-essentialising understanding of Roma and non-Roma identity through hermeneutic dialogue'.
Qualifications
Current University of Sussex & IDS - PhD Anthropology & Development,
2007 Open University - Postgraduate Diploma in Conflict and Development
2000 - 2002 Open University - MSc in Development Management
1986 - 1991 University of Timisoara, Romania - Degree in Finances and Accounting
Activities
Over the years, Violeta has worked with activists, artists and film makers to challenge antigypsyism.
For the past two years, Violeta has been involved as a volunteer with the grassroots Roma community network Idetartozunk! (We Belong Here!), based in Hungary, organisers of the annual Roma Pride March in Hungary.
She also works closely with a series of other Roma-led organisations such as Romnet or Phiren Amenca, and has published articles focused on questioning anti-Roma racism.
In 2014, Violeta curated an exhibition with the topic of alternative media images of Roma communities, in collaboration with the London-based Romanian Cultural Centre (http://www.romanianculturalcentre.org.uk/). The exhibition brought together Romani Studies academics, Romani activists and organisations such as the Roma Support Group, as well as policy makers, to challenge the UK public's stereotypical views of Roma people.