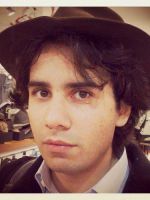 Dr
Feras Alkabani
Biography
Feras Alkabani is teaching fellow and lecturer at the University of Sussex. Feras obtained his BA in English Language and Literature from Damascus University and went on to pursue his postgraduate studies at the University of Sussex. Feras has an MA in English (Critical Theory) and a PhD in English (Comparative Literature).
Feras has taught on a wide range of interdisciplinary modules in Literature, History, Language Studies and Linguistics, International Development and Anthropology at various universities and HE institutions in the UK abroad, including the University of Sussex, King's College London, CAPA London and Damascus University.
His first monograph, Richard Burton, T.E. Lawrence and the Culture of Homoerotic Desire, is going to be published next year (2019) by I.B. Tauris London.
Role
Teaching Fellow, Lecturer and Associate Tutor
SCLS, HAHP and Global Studies
Qualifications
BA (First Class Honours) in English Language and Literature - Damascus University
MA in English (Critical Theory) - University of Sussex
PhD in English (Comparative Literature) - University of Sussex