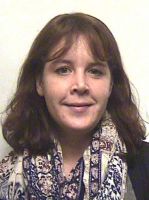 Ms
Jill Ahrens
Biography
Jill Ahrens is currently conducting doctoral research with Nigerians in Germany, England and Spain. In her research she explores the experiences and motivations of intra-EU mobility and immobility in the context of the Nigerian diaspora(s). This research is supported by the German Academic Exchange Service (DAAD) and her supervisors are Prof. Russell King and Dr Michael Collyer.
She has an interdisciplinary background that includes economics, politics, cultural studies and research methods. She worked as a researcher at the Sussex Centre for Migration Research on projects related to student mobility (funded by BIS and HEFCE) and Migrations between Africa and Europe (MAFE funded by the European Commission). Previously she gained experience in migrants rights advocacy while working for the Manchester Refugee Support Network and Threshold Women's Counselling Service.
Qualifications
PhD candidate in Migration Studies, University of Sussex
MSc in Comparative and Cross-Cultural Research Methods, University of Sussex, 2010
MA in Migration Studies, University of Sussex, 2007
BA (Hons) in European Studies and Modern Languages, University of Manchester and University of Barcelona, 2006
During summer semester 2013 Jill will be a Visiting Lecturer at the University of Bonn. Between 2010-2012 she was teaching as an Associate Tutor at Sussex on the undergraduate course Culture, Race and Ethnicity. She also taught German as a Language Teaching Assistant for A-level students at the Withington Girls' School for two years.