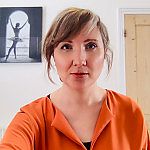 Dr
Alison Phipps
Post:
Director (Centre for Gender Studies)
Other posts:
Senior Lecturer (Sociology, Cultural Studies, Sussex Centre for Cultural Studies)
Location:
Friston Building Fr-264
Email:
A.E.Phipps@sussex.ac.uk

Telephone numbers
Internal:
7689 or 8449
UK:
01273 877689 or 01273 678449
International:
+44 1273 877689 or +44 1273 678449

Research expertise:
download vCarddownload vCard to your mobile
Biography
Alison has a BA in politics/modern history and an MA in political theory from the University of Manchester, and a PhD in the sociology of education from the University of Cambridge. She has previously lectured at the universities of Cambridge and Brighton, and has been at Sussex since October 2005.
She is Director of the Centre for Gender Studies, which has 16 core faculty and a large group of affiliates who engage in gender research and teaching and are well known in their fields. There are also over 100 PhD students studying gender-related topics in disciplines across the University, who are networked via the Centre.
Alison was Chair of the Feminist and Women's Studies Association UK and Ireland, 2009-2012.
Follow Alison on Twitter
Follow Alison on Academia.edu
Role
Director of Gender Studies
Senior Lecturer in Sociology
(on maternity leave academic year 2013-14)
Community and Business
Alison currently sits on Brighton and Hove City Council's Violence Against Women and Girls Programme Board, and advises the trustee board of Survivors' Network. She recently worked with the NUS on a national survey of students and sexual violence - the report can be downloaded at http://hiddenmarks.org.uk/2010/. She is also an Ambassador for the National Co-ordinating Centre for Public Engagement.
Alison is primarily interested in the politics of the body, in particular as they play out around issues to do with gender, violence, sexuality and health. She is currently developing a political sociology of issues including sexual violence, childbirth, breastfeeding, abortion and sex work. This focuses on the discursive power of the current Western neoliberal/neoconservative political coalition and how this has produced a marketisation of issues of autonomy and choice, a left-wing moral ambivalence and an individualisation of dissent and critique. Linked to this, it examines current trends towards the politics of identity, emotion and 'authenticity', and how the 'global' figures into Western debates through the commodification and appropriation of 'traditional' cultures as part of middle class healthist agendas. This work has been brought together in a book entitled The Politics of the Body: gender in a neoliberal and neoconservative age, forthcoming in 2014 from Polity Press.
Alison is specifically interested in violence against women students, and was involved in the production of the 2010 NUS Hidden Marks report on the issue. She has recently, with colleagues at Keele, London Metropolitan and Northumbria Universities, set up the Safe Studies Network, a group of academics, policymakers, third sector organisations and journalists, with plans to establish a seminar series and develop policy and training materials for UK universities. She has recently completed an NUS-funded qualitative study of women students' experiences of higher education and in particular 'lad culture', with researcher Isabel Young. The report can be downloaded here.
Alison's previous research projects have included a qualitative study of violence against sex workers, and a project on GPs' attitudes to abortion. She is a member of the British Sociological Association's Human Reproduction and Violence Against Women Study Groups, the Mapping Maternal Subjectivities, Identities and Ethics (MaMSIE) network and the Equality and Diversity Forum Resarch Network.
Alison convenes and teaches courses in the areas of sociology, gender studies, critical health studies and research methods. Her two main courses are:
The Body: current controversies and debates (Level 3, semester 1 or 2)
Gender Politics and Social Research (Masters level core course, semester 1)
Alison currently supervises eight PhD candidates in various areas related to her research interests, including honour killings, feminist organising in local government, the protection of internally-displaced female adolescents, and harassment in Saudi hospitals.
As Director of Gender Studies Alison convenes the MA in Gender Studies and is the selector/convenor for the Gender DPhil (PhD) programme in Social Sciences. For more information on Gender Studies at Sussex, visit the website at www.sussex.ac.uk/gender.
Phipps, Alison and Bendelow, Gillian (2013) Sociology of the body. In: The Wiley-Blackwell Encyclopedia of Health, Illness, Behaviour and Society. Wiley-Blackwell. (In Press)
Phipps, Alison (2013) The politics of the body: gender in a neoliberal and neoconservative age. Polity Press, Cambridge. (In Press)
Phipps, Alison and Smith, Geraldine (2012) Violence against women students in the UK: time to take action. Gender and Education, 24 (4). pp. 357-373. ISSN 0954-0253
Phipps, Alison and Young, Isabel (2012) That's what she said: women students' experience of 'lad culture' in higher education. Other. National Union of Students, London.
Phipps, Alison (2012) Violence against sex workers in the UK. In: Violence against women: current theory and practice in domestic abuse, sexual violence, and exploitation. Research highlights in social work (56). Jessica Kingsley Publishers, London, pp. 87-102. ISBN 9781849051323
Phipps, Alison (2010) Violent and victimized bodies: sexual violence policy in England and Wales. Critical Social Policy, 30 (3). pp. 359-383. ISSN 0261-0183
Phipps, Alison (2009) Rape and respectability: ideas about sexual violence and social class. Sociology, 43 (4). pp. 667-683. ISSN 00380385
Phipps, Alison (2009) Book review: Agustin, L. M. 'Sex at the Margins'. Journal of Ethnic and Migration Studies, 35 (6). pp. 1053-1057. ISSN 1369183X
Phipps, Alison (2008) Who do women in SET need feminism? Science Policy, 2008 (April). p. 45.
Phipps, Alison (2008) Women in Science, Engineering and Technology: Three Decades of UK Initiatives. Trentham Books, Sterling, VA. ISBN 9781858564029
Phipps, Alison (2007) Re-inscribing gender binaries: deconstructing the dominant discourse around women's equality in science, engineering, and technology. Sociological Review, 55 (4). pp. 768-787. ISSN 0038-0261
Phipps, Alison (2006) Extended review: girls of the future? British Journal of Sociology of Education, 27 (3). pp. 409-415. ISSN 01425692
Phipps, Alison (2006) Pipelines, Preparedness and Culture: the development of female talent in science, engineering, and technology in the US and UK,. Documentation. Unset.
Phipps, Alison (2006) 'I can't do with whinging women!' Feminism and the habitus of 'women in science' activists. Women's Studies International Forum, 29 (2). pp. 125-135. ISSN 0277-5395
Phipps, Alison (2003) Gender and education in the UK: background paper for the UNESCO global monitoring report 'Education for all: the leap to equality'. Project Report. UNESCO.
Phipps, Alison (2002) Engineering women: the `gendering' of professional identities. International Journal of Engineering Education, 18 (4). pp. 409-414. ISSN 0949149X
On maternity leave 2013-14