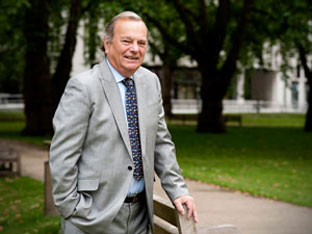 You need javascript to hear the audio via the JW player. Alternatively, download the
mp3 file
.
Professor Sir Gordon Conway
Professor Sir Gordon Conway was Vice-Chancellor of Sussex from 1992-1998.
Transcription
And of course the campus is great - the campus is wonderful - what's brilliant about it is having the library in the centre of the campus. It provides a focal point for everybody, and I think the Basil Spence architecture's been good - and think what we've done subsequently has been good. We added on, I think the major building project when I was here was the add-on of the library. And having the meeting House right there in the centre too, it's got some of the feeling of a sort of Renaissance city with a central core where people get together, and work and so on, and study and talk. So I think the campus for me was a very friendly kind of place. You could walk around the campus - I remember I often used to do that with, well not often, but several times, used to do that with Richard Attenborough. So, he would do his usual thing of putting his arm through yours and we'd walk round the campus. The students just thought that was wonderful - they would all recognise that, and that was nice.