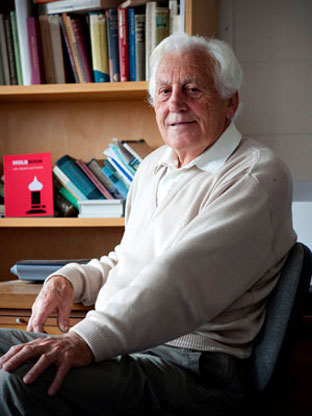 You need javascript to hear the audio via the JW player. Alternatively, download the
mp3 file
.
Professor John Murrell
Professor John Murrell FRS joined Sussex in 1965 as Professor of Chemistry. He retired in 1989.
Transcription
We had very good people. That's what brings money in. You might be lucky and appoint a young man or woman and they may develop to a point where they become an international figure and bring money in but you may not be lucky. I mean the other way is to buy in a player - it's just like football really, if you want a striker - if Manchester United wants a striker, it goes out and spends a lot of money on one. Sussex University doesn't have that sort of money but in the early days because we were an exciting original place, we actually got these people in to do exciting work. We - I don't think there'll be another - we will never have another subject in the university which was as successful on the research front as Chemistry was. We've had three Nobel Prize winners working in the laboratory, we had about ten Fellows of the Royal Society, most of whom were ingrown shall we say, that is who got their fellowship because of work they were doing at Sussex. Now the whole university doesn't have ten Fellows of the Royal Society, I mean they are a relatively rare breed, you've got to be very lucky and we were comparable with Oxbridge in Chemistry - although smaller - as a group we had major research groups run by international figures.