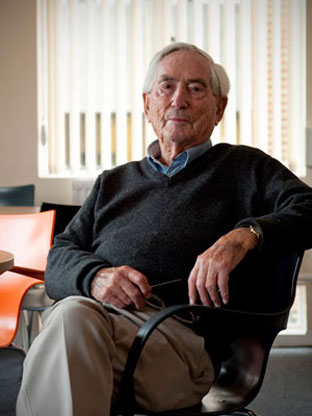 You need javascript to hear the audio via the JW player. Alternatively, download the
mp3 file
.
Professor Norman Mackenzie
Professor Norman Mackenzie joined Sussex in 1962 as a lecturer in Political Sociology. He became Director of the School of Education in 1972, retiring in 1982.
Transcription
My first impression was coming down on a very snowy day in nineteen sixty two and I was--- had been appointed as lecturer in political sociology. All these things were in a sense provisional at that stage you know what titles we wanted and things. But I had been assistant editor of the New Statesman for twenty years and how I got into this was I'd always had an academic interest, and originally intended to go and teach at LSE and kept putting it off because I was interested in what I was doing and then I went and worked at academic jobs in America, and I knew Asa quite well because Asa and I had been fellow students way back, we've known each other seventy years- and he said we're opening this new university would you be interested in coming blah blah blah and I said yes. That's how it happened. You didn't have appointments committees and reference, and so I simply had a part time job to do a number of students, I did one course and I came down from London two days a week, and as I say there was a Nissan huts, not Nissan huts but the equivalent - of which I think the last are about vanishing from the campus now, very good emergency buildings. They had a terrible weakness- their soundproofing was appalling and if you had four or five people running tutorials in a row of pre fab buildings, the next room to me was Stephen Medcalf who had a very loud voice and was liable to quote Shakespeare very loudly, and my tutorials had somehow to be interrupted while we had speeches from King Lear and things.