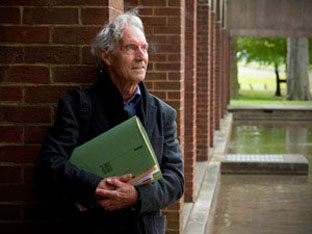 You need javascript to hear the audio via the JW player. Alternatively, download the
mp3 file
.
Professor Rod Kedward
Professor Rod Kedward, joined Sussex as lecturer in History in 1962. He retired in 2002.
Transcription
So those were the days of the expansion of higher education and the move away from the old universities and I must admit that coming to Sussex was, in some ways a major re-education for me. I found I was able to do things that I had always wanted to do like dabble in art appreciation. I ran the first series of courses in modern art in Brighton under the kind of auspices of the Oxford extra-mural studies which still ran adult education at that time. We operated in the Friends centre in the Lanes. And I ran almost from the start art appreciation where I showed Paul Klee and Matisse and other such things to a group of volunteers who wanted to come and learn. I was able to do that and also do a lot of stuff relating to psychology which I was interested in and philosophy. I was very much involved in existentialism at the time and was reading a lot abut Satre and existentialist philosophy. I felt the university here was a wonderful existential opportunity to realise yourself; to create yourself afresh really.