Postgraduate researchers
The School of Education and Social Work (ESW) is united by a common aim to provide essential knowledge and skills relevant for the complexities of the 21st century. Collaboration across disciplinary areas is an important aspect of the doctoral experience and there are opportunities for contact with a range of research active faculty and doctoral researchers in both the Department of Education and the Department of Social Work and Social Care.
Introduction from Professor Charles Watters, Director of Doctoral Studies (2020)
"Doctoral studies within ESW are underpinned by a focus on quality, internationalization and alignment with core research areas, combined with enhanced quality of training and support. Each researcher is affiliated to at least one of our interdisciplinary research centres and encouraged to participate in ongoing centre research projects, events and related centres/networks. The quality of our doctoral courses has been marked by success in receiving highly competitive South East Network in Social Sciences studentships."
_________________________________________________________
ESW is thrilled to share with you the success of two of our doctoral researchers at the Festival of Doctoral Research (15-19 June 2020).
Sushri Sangita Puhan (Social Work PhD) was the runner up (second place) in the Three Minute Thesis Presentation receiving a cash prize of £250. Sushri's presentation title was 'Why and how people think, talk and practice adoption in India'.
Yasser Kosbar (Education PhD) secured the People's Choice Award in the Research Poster Competition for 'Challenges Facing Egyptian Women Postgraduates in the UK'. His poster is shown here...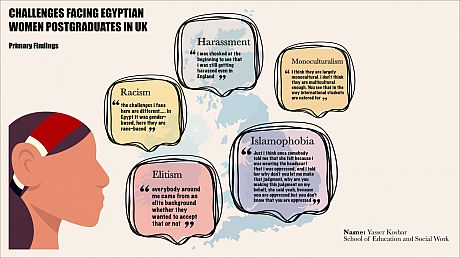 The PGR Team

Doctoral researchers in the School of Education and Social Work work with, and are supported by, a designated team in addition to their Doctoral Supervisors:

Director of Doctoral Studies: Professor Charles Watters
Room 144, Essex House
T: +44 (0)1273 872584
E: c.watters@sussex.ac.uk


Course Leader/Convenor of the Education PhD & International Education & Development PhD: Dr Jo Westbrook
Room 118, Essex House
T: +44 (0)1273 877326
E: jlw24@sussex.ac.uk


Course Leader/Convenor of the Social Work and Social Care PhD & the Childhood and Youth PhD: Dr Henglien Lisa Chen
Room 213, Essex House
T: +44 (0)1273 873721
E: h.l.chen@sussex.ac.uk


Research & Enterprise Coordinator: Deeptima Massey
Room 110, Essex House
T: +44 (0)1273 678464
E: d.massey@sussex.ac.uk

Doctoral Course Coordinator: Mike Davy (in office Monday, Thursday afternoon, Friday)
Room 111, Essex House
T: +44 (0)1273 873358
E: eswpgradmin@sussex.ac.uk

Doctoral Clerical Assistant: Carol Brailsford (in office Monday-Thursday, 9.30am-3.30pm)
Room 111, Essex House
E: eswpgradmin@sussex.ac.uk

Researchers' Perspectives

"I began my PhD in September. Induction sessions from the Doctoral School and ESW, along with events such as the Hive's 'Meet and Greet', really gave me a sense of academic support and belonging. ESW's New Student Support Group, run by students who could share their own PhD experiences, created opportunities for us to work together and discuss challenging theoretical aspects. My advice to new students would be to take and make opportunities to engage with others, work closely with your supervisors and trust that things will evolve; the ideas you arrive with will develop and clarity will come to you in waves."

Gill Emerson, Education PhD (February 2020)

"As a third year doctoral researcher in Social Work and Social Care, my experience has been a very positive one. Ever since I embarked on my research journey, the School of Education and Social Work has always been like a second home to me. It's where I gathered with my research cohort, my colleagues and our supportive academic staff, and also where I learned and 'unlearned' the few and the many skills which I consider core in my research journey . ESW has always had an inclusive and welcoming culture, where you feel that every single student, regardless of their background or experience, is embraced and supported. Academically, ESW has always provided essential trainings for doctoral researchers, and has always been responsive to our constant needs in relation to academic support, training and professional development."

May Nasrawy, Social Work and Social Care PhD (February 2020)

Induction

The school arranges an induction session for all new doctoral researchers at the beginning of each academic year. Hosted by the Director of Doctoral Studies and the Education and Social Work and Social Care PhD Course Convenors, the session is designed to help researchers integrate with their school. With an overview of the school and the journey ahead, the induction is essentially a 'light touch' welcome session to inform and also introduce new researchers to more experienced ones, as well as doctoral supervisors and other support staff.

The PhD Handbook

The PhD Handbook is an essential guide with information on all aspects of the PhD journey, including key contacts, details about the School's research centres, the key stages of the doctoral course and reading lists.

The PhD Handbook should be read in conjunction with the Handbook for Doctoral Researchers which contains the University's regulations for doctoral study and assessment, as well as important guidelines on such things as confidential sources, copyright and misconduct. This is produced by the Research Student Administration Office.

Events and Activities

Throughout the year, doctoral researchers are given the opportunity to attend training workshops on a wide range of topics, including preparing for fieldwork, applying for ethical clearance, Progression Review, and what to expect from a Viva.

In addition, researchers are encouraged to present their research at a Doctoral Research in Progress (DRiP) session which take place throughout the year.

Examples of event promo posters

Interdisciplinary Awayday

Once a year, the School of Education and Social Work hosts a Doctoral Interdisciplinary Awayday exclusively for its doctoral researchers. These events are always on a Saturday to enable part-time researchers with full-time jobs and/or care responsibilities to attend.

The Awayday is a fantastic opportunity for researchers to network with each other, learn from experienced academics who deliver bespoke sessions (past topics have included Building Theoretical Frameworks, Unpacking Conferences; and Using Social Media to Present Yourself and Your Research) and reflect on their journeys to date.

Progression Review

Progression Review takes place between May and July each year and is the formal mechanism by which the University assesses the progress of all doctoral researchers and for which the Director of Doctoral Studies makes a recommendation regarding progression and re-registration for the next academic year. The review processes involves a number of steps:

Progression Review forms sent by email to all doctoral researchers and main supervisors
The doctoral researcher must complete the Progression Review form, make an accurate record of supervision meetings (logged on Sussex Direct throughout the year), update the Training Needs Analysis form, and update their submission timeline.
The researcher must then arrange to meet with their second supervisor (or another nominated or independent reviewer if the supervisory split is 60:40) to discuss the forms and review progress made.
The supervisor (or relevant other) will record a recommendation regarding the researcher's progression for the next academic year.
All paperwork is submitted to the relevant PhD Course Leader/Convenor and the Director of Doctoral Studies for review and a final recommendation which is reported back to the researcher.

Supervision and Attendance Monitoring

Doctoral supervision is central to the PhD so it is important to fully understand the procedures associated with it and how to maximise its value. The University of Sussex has approved guidelines for research supervision, an official code of good practice and a complaints and appeals procedures. Key points are as follows:

Doctoral researchers have a dedicated team of supervisors - typically two. One is designated as a main supervisor and principal point of contact. The respective contribution of the first and second supervisors vary, in part because it is tailored to meet the requirements of particular projects.
A key part of supervision is that supervisors read and comment on draft sections or chapters, both of the proposal and the developing thesis itself. Researchers should attempt to let their supervisors know in advance when they will receive a draft, with the expectation that this should be returned with comments within a maximum of two to three weeks. Supervision meetings to discuss feedback can be of great benefit.
The contact time entitlement for full-time doctoral researchers is 15 hours of supervisory contact per annum. Nine hours for part-timers. The precise pattern of meetings - whether joint supervision or separate one-to-ones with each supervisor to discuss specific areas - will vary according to the particular stage of the doctoral journey the individual researcher is on. In the first term of the first year, for instance, researchers may require shorter more frequent meetings. All researchers are expected to be proactive in maintaining regular (at least monthly) contact with their supervisor(s), even at times when they feel they have little progress to report.

Recording supervision meetings
The recording of supervision meetings is part of the University's attendance monitoring process and is of particular importance to doctoral researchers on Tier 4 visas.

All full-time doctoral researchers are required to record at least one contact a month with their supervisor(s) on Sussex Direct.

The Viva

As part of the examination process, doctoral researchers in the School of Education and Social Work are required to attend a viva voce examination at which they must orally defend their thesis or portfolio. The examination is normally held two to three months after submission of the final thesis. The School will ensure that each researcher is sufficiently supported in preparation for their viva (for example, suggesting participation at a suitable workshop, offering a mock viva, or referring the individual to relevant written guidance materials).

Awards and Recognition

Paul Shuttleworth: Social Work and Social Care PhD (2019)

"I won first place at Sussex University's Doctoral Research Poster Competition. This was established to showcase the research undertaken by doctoral researchers at the University. Doctoral researchers from across all years and disciplines were invited to submit a poster on an aspect of their doctoral research which was displayed at the Festival of Doctoral Reseach between 18-20 June 2019. It was shortlisted by a panel drawn from the University's research community and then voted on by the attending public.

The title of the poster was: Absent Voices - Where Are Children's Accounts Of Being In Kinship Care. It was based around the findings from my thesis literature review."

Tanja Jovanovic: Education PhD (2018)

Tanja was recommended for the award of PhD on Thursday 5 July 2018 for her "highly original and engaging study", 'Roma Student Access to Higher Education in Serbia: Challenges and Promises' following a successful viva voce examination.

Tanja is the first Roma woman from Serbia to gain a PhD in the UK.

Supervisor Training and Workshops

The Research Student Administration Office coordinates an annual programme of training events for research supervisors, designed to meet the needs of both those who are new to supervision and those who are more experienced.

At School level, at the beginning of each new academic term the Director of Doctoral Studies chairs a Doctoral Supervision Workshop for current supervisors on a range of topics, including university doctoral developments, developing the postgraduate research environment, SeNSS, projects to enhance doctoral studies, and researcher wellbeing. These workshops have been a helpful forum to share good supervision practices, address specific concerns and suggest new and improved approaches to ensure doctoral researcher wellbeing.

Research Student Administration Office

The Research Student Administration Office provides a single point of contact for all administration associated with the doctoral journey. Areas covered include all aspects of the examination process, as well as tailored advice for international doctoral researchers.