Impact
Research carried out by staff in the School of Education and Social Work is making a substantial and positive impact to the lives of people globally.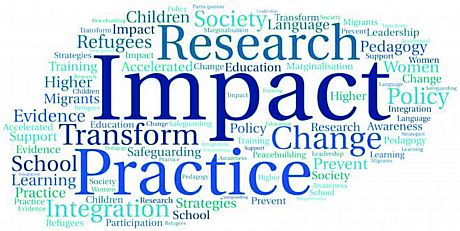 Our work is improving policy and practice for children and young people at risk of abuse, neglect, violence, exploitation, and school exclusion. Strong partnerships with practitioners and policy-makers have enabled research on educating refugees, young people's sexual health, adults in higher education, and children in conflict-affected areas to bring about measurable change in national and international policy. Our research on safeguarding adults, supporting individuals with learning disabilities, and evaluating interventions with parents, children, and families continually shapes the innovative practices of educators and social care professionals both nationally and internationally.
Planning for research impact is integral to the way in which we support academics and doctoral researchers to develop and carry out their research; discussing pathways to impact, planning and measuring impact is at the heart of our research culture.
ESW Impact Leads and Advisory Group

Dr Kristine Hickle is the Academic Impact Lead for ESW, supported by Deeptima Massey, Research and Enterprise Coordinator. They can offer advice and assistance on impact opportunities, funding initiatives or any REF-related queries.

ESW hosts an Internal Impact Advisory Group that meets bi-annually to discuss the School's impact strategy, priorities, event planning and related activities. We are keen to encourage members from across the School. Contact Kristine or Deeptima if you would like to join the group.

Understanding Research Impact

What is Research Impact?

There are two key definitions:

The demonstrable contribution that excellent research makes to society and the economy.
Research Councils UK (RCUK)
Any identifiable benefit to, or positive influence on, the economy, society, public policy or services, culture, the environment or quality of life.
Higher Education Funding Council for England (HEFCE)

Research has impact if it has brought about some kind of direct change or benefit to society, or has influenced thinking or practices in a positive way. It is about the effect of academic research on those who take new knowledge into the non-academic world, for example, teachers, social workers, health practitioners, or policy makers. While conference presentations, journal papers, and books are a highly effective way of disseminating ideas to others (and can be part of a pathway to impact), communication of research findings does not usually constitute impact in its own right, but is the first stage of a process. What constitutes impact is what happens next. Summarised as follows:

Public Engagement: Communicating the research to the relevant stakeholders so your research starts to influence the thinking of those outside academia.
Knowledge exchange: Shaping the findings so that they generate recommendations which are relevant to the policy and practice arena – can be an important part of the process.
Research Uptake: Persuading key stakeholders to take the research forward in their particular field, organisation, or practice. If you have managed to engage those with both high interest in the topic and high influence in the field, then they may have the resources and power to take changes in policy, services or practices forward.
Impact Capture: Ensuring that any substantiated evidence of the changes which have resulted from the research are established and kept.

Impact in REF 2021

For the purposes of the REF, impact is defined as an effect on, change or benefit to the economy, society, culture, public policy or services, health, the environment or quality of life, beyond academia. It is an important element of the REF 2021 assessment; case studies describing specific examples of impacts achieved during the assessment period are to be submitted. Impact element is weighted 25 per cent of the submission.

Impact includes, but is not limited to, an effect on, change or benefit to:

activity, attitude, awareness, behaviour, capacity, opportunity, performance, policy, practice, process or understanding
an audience, beneficiary, community, constituency, organisation or individuals
any geographic location whether locally, regionally, nationally or internationally.

Impacts are assessed in terms of their 'reach and significance', regardless of the geographic location in which they occurred - locally, regionally, nationally or internationally. The UK funding bodies expect that many impacts will contribute to the economy, society and culture within the UK, but equally value the international contribution of UK research.

Impact case study templates and guidance (Annex G)

Impact Events

The School has been running Impact Training Workshops that are open to all, especially postgraduate researchers, early-career researchers and new staff members. The first workshops ran in February and December 2019 which included introductions to research impact and examples of pathways to impact in practice.

Dr Rebecca Webb (Education Lecturer) and Dr Perpetua Kirby (Education Tutor & Research Associate) are currently researching how to balance children's conformity in schools with possibilities for transformation. Children currently acquire knowledge through the school curriculum and are expected to behave in particular ways. Rebecca and Perpetua question this approach and they recently hosted an 'impact' event with secondary and primary teachers and school leaders which focused on engaging critically and uncertainly with PREVENT.

Impact Newsletters

Research impact is an evolving feature of the academic landscape and we are working to make it an integral part of ESW's research culture. We publish all our impact updates via our Impact newsletters.

The aim of our newsletters is to raise awareness and understanding of impact news and events within the School, including funding calls. Through these newsletters, we hope to promote the real-world impact capabilities of staff, and develop levels of engagement and participation within the School's impact culture. The newsletters also feature updates on impact funding and training opportunities, as well as other useful resources.

If you have any impact news from your research or pathways to impact updates you would like to submit we would love to hear from you. We are also happy to receive any comments you may have on our newsletters. Email Dr Kristine Hickle or Deeptima Massey.

Impact Funding

Over the last four years, the School has been running the Impact Quick Boost (HEIF) funding scheme. The scheme provides awards of up to a maximum of £1000 for activities that can accelerate the impact of research our academics are currently involved in. The funding is also intended to help generate new pathways to impact and/or evidence ongoing impact from research. The call goes out in December every year. If you are interested in applying for this fund please send your expression of interest (just a few quick lines about your proposed activity and approximate budget), or any questions you might have about the funding scheme, to Dr Kristine Hickle.

The University offers impact funding opportunities via the ESRC Impact Acceleration Account (IAA). This is a block grant that has been awarded to the University of Sussex by the Economic and Social Research Council (ESRC) to support the development of social science impact and knowledge exchange activities. The ESRC define impact as the 'demonstrable contribution that excellent research makes to society and the economy'. Funding is to be used to develop and support the acceleration of impact from social science research amongst non-academic audiences.

Research and Enterprise Coordinator, Deeptima Massey, can give advice on funding routes available, signpost you to appropriate colleagues in the Research Quality and Impact office, and assist with funding applications.

Impact Acceleration Award Recipients

Name
Project Title
EDUCATION
Professor Gillian Hampden-Thompson
Fast and Furious Reading: Summer reading event at Brighton's Jubilee Library
Professor Máiréad Dunne
Stakeholder Engagement - Troubling Muslim Youth Identities: Nation, religion, gender
Dr Rebecca Webb
Case Study: The impact of engaging teaching staff in schools with the ideas of educational uncertainty for climate change
Dr Linda Morrice
Good Practice Guide to Optimising Refugee Resettlement
Professor Louise Morley
Impact Event / Stakeholder Mapping - The Roma in Higher Education: Internationalisation, inclusion and innovations
SOCIAL WORK AND SOCIAL CARE
Dr Henglien Lisa Chen
Co-creating Connected and Intelligent Care Homes for People with Dementia: The development of a demand-led project
Dr Kristine Hickle
The 'See Me, Hear Me' Project: Generating, capturing and sustaining impact
Dr David Orr
Implementing and Embedding Research-based Organisational Change for Better Outcomes in Self-neglect: A co-production approach
Professor Gillian Ruch

Talking and Listening to Children: Understanding and improving the everyday practices of child and family social workers

The Talking and Listening to Children (TLC) Project

Professor Rachel Thomson
Pleasure and Consent: Delivering critical digital pedagogies in sex and relationship education

Impact Quick Boost Funding Recipients

| 2019/20 | Project Title |
| --- | --- |
| Professor Gillian Ruch | Talking and Listening to Children 'Kitbag' Campaign |
| Dr Jeri Damman | Parent-Partner Programmes in Child Proecion: Considering the case for peer mentoring approaches |
| Dr Tam Cane | HIV Awareness Training for Social Workers Working with Children and Families |
| Dr Marcos Delprato | Web interface of education spatial inequality indicators in sub-Saharan Africa in the Sustainable Development Goals (SDGs) context: A prototype |
| Dr Rebecca Webb | Informing, inspiring and supporting teachers to engage with 'PREVENT' in schools to better equip them to engage with it in more 'critical' and 'uncertain' ways. |
| Dr Louise Gazeley | Connecting Research and Practice in Widening Participation: Exploring (alternative) routes to change |

| 2020/21 | Project Title |
| --- | --- |
| Dr Tam Cane | Promoting Anti-discriminatory Practice |
| Dr Reima Ana Maglajlic | Promotional video on the value of community-based mental health services, based on a study by experts by experience |
| Dr Laia Becares | Visualising the Mechanism Behind Ethnic Inequalities in Later Life |
| Jo Tregenza | The Joy of Reading |
| Professor Gillian Ruch | BASW Talking and Listening to Children 'Kitbag' Conference |

There are also a range of external funding opportunities available for social science impact and public engagement activities.

Research Impact Toolkit

The University has developed the Research Impact Toolkit. This very useful resource provides guidance on understanding impact, embedding impact into research proposals and projects, funder requirements concerning research impact and communicating research. The Toolkit will also provide a range of good research impact exemplars.

See the Impact Toolkit on the internal Research and Knowledge Exchange website (you will need to enter your login details to access this area).

Useful Contacts, Help and Advice

There are a range of useful contacts who can help you plan for impact:

The Research and Enterprise Coordinator is based in Essex House. Deeptima offers advice and support on scoping out research impact pathways, planning impact generation, on impact components of funding applications and bids, on stakeholder mapping exercices, on preparing and disseminating policy briefs, and on developing research impact and supporting knowledge exchange activities for REF 2021 case studies.

Nora Davies is the ESRC IAA Partnership Project Manager in the Research Office. She advises on applications to the ESRC IAA fund.

Neil Vowles is the School's Media Relations Manager based within the central Press and Communications Office. He works directly with ESW staff to generate media interest, write press releases and circulate information about your research via his substantial network of local and national media contacts.

Policy@Sussex act as a bridge between University of Sussex social sciences research and policy-making organisations. Their website includes a range of useful resources to assist researchers interested in writing policy briefs, getting research presented within Parliament and contributing to select committees. ESW has established links with policy@sussex and work with them via Deeptima Massey.

Useful Websites

Sussex Research impact web pages:
For information about funding opportunities, support networks and the research impact toolkit

ESRC Impact Toolkit:
Specifically aimed at social science researchers and offers guidance on writing pathways to impact communication strategies and public engagement activities

LSE Impact Blog:
A lively and topical blog run by the London School of Economics geared towards social science research

The STERN Review:
In 2016, the Government published a review of the Research Excellence Framework (the STERN Review) which made recommendations on the REF and on allocating university research funding

Fast Track Impact:
Developed by Professor Mark Reed, the Fast Track Impact website provides more information, advice and resources about impact planning, engaging with stakeholders and writing impact pathway statements for funding bids.

ESW has purchased copies of The Research Impact Handbook by Mark Reed, which are available to borrow.