"Our single greatest defense against scientific ignorance is education, and early in the life of every scientist, the child's first interest was sparked by a teacher."
Peter Agre - Nobel Prize in Chemistry
---
This site is specifically for students and staff in the School of Education and Social Work. It aims to provide – on one site – a comprehensive guide to how the School is organised, our facilities, and School-level policies on a range of issues.
The School has ambitious plans to become a leading UK centre of research and teaching in social work and education. We already offer some of the best undergraduate and postgraduate programmes in the country, including a range of innovative masters programmes as well as both research and professional doctorates. Our international work is a particular strength and we attract some of the best students from around the world as well as from the UK. We are developing our already strong research profile in selected areas and staff have an excellent track record of publication in top level settings.
This site contains practical information you need to support you in your study, such as programme and course specifications, and information on assessment, office hours and options. Web pages will be developed progressively over the coming months. We welcome your feedback on how the site is organised, and on the information it contains. If you spot an error, or something that is not clear, please contact Heather on Ext: 8493.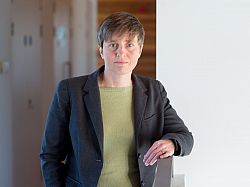 Head of the School of Education and Social Work
Professor Gillian Hampden-Thompson