Children and young people's perspectives on ethics review of clinical research with children
Adult research ethics committees are often asked to make decisions about research projects that involve children and young people, but not enough is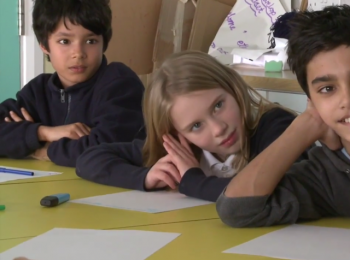 known about young people's views of research ethics. The Centre for Innovation and Research in Childhood and Youth (CIRCY) has been working with the Brighton and Sussex Medical School, the University of Nottingham and the Institute of Education, University of London, on a project with the Nuffield Council on Bioethics. Our aim was to learn from young people about research ethics when children are involved in clinical research. We worked with young people in three schools/colleges and film-maker, Vivianne Howard from Helter Skelter Media.
At each workshop, students were shown a film that features a 'mock' adult research ethics committee (REC), chaired by Professor Bobbie Farsides, Chair of the Council's Working Party on Children and Clinical Research. The REC debated the ethics associated with a fictional clinical research protocol that involved testing a new method of prescribing two different types of medication for severe childhood asthma. The same research protocol was then presented to the students at each school, and their reactions to its contents were filmed both before and after they had been shown the deliberations of the adult REC.
Two films, directed by Vivianne Howard, have been produced from the project and were screened at a launch event at the Brighton and Sussex Medical School on 25 March 2014. The first film (see above) formed part of materials discussed during the school workshops held as part of this project. It presents a hypothetical case study involving Ruby, a young girl with severe asthma, her consultant Professor Somnath Mukhopadhyay, who is planning a clinical research study involving asthmatic children, and a mock research ethics committee discussing the ethics application for his study. The second (see below) summarises the key themes that emerged from the young people's discussions.
To find out more about the project, download the Final Report: What we think about what adults think: Children and young people's perspectives on ethics review of clinical research with children [PDF 305.68KB] or visit the CIRCY blog to read more about the experiences of three young people from a sixth form college in Brighton who took part in the project.