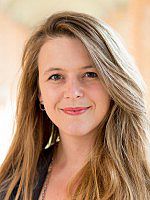 Dr
Hope Wolf
Biography
I have research interests in modernism, the visual arts, and life writing. I have presented my research in books, articles, and, most recently, through curating an exhibition. My work tends to focus on twentieth-century topics, although I also have also written on the contemporary period. I like to collaborate with museums, galleries and archives, and am particularly drawn to projects that ask questions about the reception and appreciation of art and literature today.
I am currently concentrating on two research, book and curatorial projects. One is on Grace Pailthorpe and Reuben Mednikoff: Surrealist and psychoanalytic artists, poets, life writers and thinkers. As well as writing about them, in 2018 I will also be curating an exhibition on their life and work at the De La Warr Pavilion, Bexhill. The other project is on the theme of Sussex Modernism (see below).
In 2017 I curated an exhibition on Sussex Modernism at Two Temple Place, London: http://www.twotempleplace.org/exhibitions/2017-2/ (you can also download and read my catalogue essay here) and https://sussexmodernism.wordpress.com/sussex-modernism-retreat-and-rebellion-exhibition/. The exhibition, and the research project it accompanies, compared modernist artistic and literary communities in the region. As part of this I have explored modernist utopian practice, intersections between internationalism and localism, and also the reception of modernism today. The exhibition and project focuses on communities and networks at Ditchling (home to Eric Gill and David Jones), Charleston and Monk's House (Sussex homes of the Bloomsbury Group), Socialist networks around the De La Warr Pavilion and Furlongs, and also several Surrealist groups based respectively at Farley Farm, West Dean, Rye, and the Hastings/Bexhill area. Please contact me if you would like to hear more about the exhibition and related research project, or if you would like to work with me on any makers connected with Modernism in Sussex. Please see the Centre for Modernist Studies webpage for more names and information: https://sussexmodernism.wordpress.com.
Also characterizing my work is an interest in critical and creative approaches to life writing. I am particularly keen on hybrid interarts autobiographical/biographical practices across a range of different media, and I like to experiment with such approaches in my own writing. My academic research in this area has tended to involve analyses of the ways in which memories, whether expressed in texts or artefacts, are collected, curated, represented and interpreted. I have published several articles on popular form: anecdotes, tweets, cliché, and stories.
I run regular conferences and events. This summer I have organised with Dr Annabel Haynes an assembly on 'Craft Modernism': https://centreformoderniststudiessussex.wordpress.com/upcoming-events/craft-modernism.
History
Before coming to Sussex University, I was a Research Fellow at Girton College, University of Cambridge, a Researcher and Teaching Fellow at King's College London, a CDA award holder at the Imperial War Museum, and a Graduate Fellow at the Human Rights Consortium (School of Advanced Study, London). I hold a PhD in English from King's College London, an MPhil in 'Criticism and Culture' from the University of Cambridge, and a BA (Hons) in History, also from the University of Cambridge. I am now a lecturer in British Modernist Literature and I co-Direct the Centre for Modernist Studies with Dr Sara Crangle: https://centreformoderniststudiessussex.wordpress.com.
Publications
I am currently working on book and chapter length projects relating to the research areas outlined above. My most recent publication was the catalogue for the Sussex Modernism exhibition (2017). Forthcoming publications include an article on David Jones, scale and measurement for A Proceedings of the British Academy volume, which draws on both his modernist poetry and his thinking about craft. I have also recently co-edited a Routledge book on Life Writing and Space (2016) with Eveline Kilian (Humboldt University, Berlin); I co-wrote the introduction and my chapter offers a critique of contemporary oral history and memory collecting practices, based on my practical experience of building a digital archive. In 2016 I published a chapter on anecdotes for A Cambridge History of English Autobiography (2016, edited by Adam Smyth). You can read online my article on tweets written during bombing of Gaza in 2014 for Textual Practice (2015); I have also published in the journal Life Writing. Bringing my doctoral research to a wider audience, in 2014 I co-edited an anthology with Sebastian Faulks: A Broken World: Letters, Diaries and Memories of the Great War (Hutchinson/Random House, 2014; published in paperback by Vintage, 2015).
For potential PhD students: I welcome PhD proposals that relate to any of the following:
Modernism (especially work that explores intersections between literature and visual art – but I welcome comparative work on other media also)
Visual Arts/Visual Culture
life writing (especially hybrid or experimental forms of autobiographical, biographical and creative-critical writing; I am also interested in psychoanalysis as life writing)
Work which seeks to use archives, museums, galleries, spaces and buildings.
Role
Lecturer in British Modernist Literature
Co-Director (with Sara Crangle) of the Centre for Modernist Studies (https://centreformoderniststudiessussex.wordpress.com/)
Community and Business
I am interested in bringing my research to audiences outside of the university. I have experience of running creative writing and life writing classes in collaboration with charity and cultural organisations, artists and oral historians. I have also approached my research interests practically: experimenting with both new and old technologies in making archives and collections. I am currently exploring the work of modernists in the Sussex region, and would be glad to hear from Sussex-based cultural and educational organisations, and makers of all kinds, with interests in modernism.