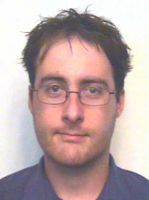 Dr
Keston Sutherland
Biography
Keston Sutherland is the editor of the poetics and critical theory journal QUID and co-editor with Andrea Brady of Barque Press. He co-directs the Sussex Poetry Festival together with Sara Crangle and Daniel Kane.
I studied for my BA at Cambridge 1994-7, then spent a year at Harvard as the Joseph Hodges Choate Fellow, then returned to Cambridge for my PhD. I joined Sussex in 2004.
Role
Reader in English.
I write on 20th century and contemporary poetry; Marx, the reception and translation of Marx, and Marxism; Adorno; Wordsworth; Pope; Beckett. I am currently working in scholarly fashion on the poetics of Marx's critique of political economy, on the problem how perfection may be disgusting, and on mouths, and in poetical fashion on a suite of five greater odes dedicated to the now-obsolete product code for a Hotpoint tumble and spin dryer, "TL61P".
PLEASE NOTE: the university has moved the records of faculty research activity -- research publications, conference papers, symposium talks, keynotes, editing etc -- into an "institutional repository" and has withdrawn the old free-form editing rights from individuals. My own profile now displays a selection of my activities and publications produced during the data migration by a person unknown to me. My publications and other writing, speaking and performance activities of the past year and a half are not displayed in the formal list. I will update them as soon as it becomes possible for me to do so.
My recent work includes several papers and essays on Marx, including two on Marx's use of irony (one in connection with Marx's notes on William Petty, the other in connection with Diderot's Le Neveu de Rameau) and one on poetry and the meaning of pointless existence for Marx and Rosa Luxemburg. Topics of other recent papers include the unique grammar of John Wilkinson's poetry, Leo Bersani's neoplatonic account of "spiritually liquefying speech" and its relation to Marx's analysis of the commodity form, oral iconography in radical poetry about the Iraq war (by J.H. Prynne and Andrea Brady in particular), and two papers on the meaning and uses of Marx's account of "monstrous accumulation" for poetry, with attention to Prynne's Sub Songs and Kevin Davies's The Golden Age of Paraphernalia. Recent published work (in 2012) includes my 'Statement for the Helsinki Poetics Conference 2010', a republication of 'Fetish and Refuge' and an email to Josh Stanley about the virtual reorderability of poetry into prose and vice versa in connection with my own The Odes to TL61P, all in a special issue of Damn the Caesars with a feature on my work and one on Rob Halpern's.
The Odes to TL61P will hopefully be published later in 2012. What are now drafts -- infant or adolescent versions -- of some of the odes can be read in Chicago Review (ode 1), Damn the Caesars (ode 3) and half circle (ode 4). Archive of the Now will soon present a recorded reading of ode 4. Extracts from some of the odes can be read, and an infant draft of ode 3 can be heard perfomed (in Chicago), on The Claudius App online.
Here is a reading of (all except the first page of) 'Ode to TL61P 5', London, 26th March 2012, at the 'Poetry and Revolution' conference.
Hot White Andy is still here.
Here is an interview conducted by Laura Kilbride in Bill's restaurant, Brighton, on 25th November 2011, for The Literateur. The poem about the student riots in London, '10/11/10', discussed in the interview, is part of 'Ode to TL61P 5' and can be heard in full in the reading above.
Another interview or rather round table discussion (with Danny Hayward, Zoe Sutherland and Jonty Tiplady) was published in Naked Punch 14.
During Autumn term 2011, I am teaching the following courses:
2nd year UG: Lyric Poetry
3rd year UG: Special Author: Samuel Beckett
UPCOMING TALKS AND READINGS IN 2011
25th April: talk for the "worlding/writing" workshop, University of Chicago.
30th April: 'Poetry and monstrous accumulation', Post45, Cleveland.
15th-16th May: poetry reading and talk at Microfest, University of Charles, Prague.
23rd May: poetry reading and talk on 'Control', University of Sheffield.
8th-12th June: 'Poetry and monstrous accumulation', Legacies of Modernism, Paris.
Student Consultation
My OFFICE HOURS for Autumn term 2011 are Mondays 12-1 and Thursdays 2-3. You don't need to make an appointment to come and see me, just show up during one of these hours.
Sutherland, Keston (2012) The world and John Wieners. World Picture (7). pp. 1-10. ISSN 1938-1700
Sutherland, Keston (2012) Revolution and Really Being Alive. In: Poetry and Revolution, 25-27th May, Birkbeck, University of London.
Sutherland, Keston (2012) Email to Josh Stanley, Dec 12, 2011 at 7:14pm. Damn the Caesars. pp. 205-206. ISSN 1557-0894-6-27-05
Sutherland, Keston (2012) Fetish and refuge: a mock pastoral. Damn the Caesars. pp. 243-254. ISSN 1557-0894-6-27-05
Sutherland, Keston (2012) Statement for the Helsinki Poetics Conference 2010. Damn the Caesars. pp. 217-222. ISSN 1557-0894-6-27-05
Sutherland, Keston (2011) Stupefaction: a radical anatomy of phantoms. Seagull Books, London ; New York. ISBN 9781906497972
Sutherland, Keston and O'Brien, Geoffrey G (2011) A dialogue between Geoffrey G. O'Brien and Keston Sutherland. The Claudius App: A Journal of Fast Poetry, 1 (1).
Sutherland, Keston (2011) 'this/is not a metaphor': the possibility of social realism in British poetry. In: British social realism in the arts since 1945. Palgrave, Basingstoke, pp. 103-131. ISBN 9780230242456
Sutherland, Keston (2010) Close writing. In: Frank O'Hara now: new essays on the New York poet. Liverpool University Press, pp. 120-130. ISBN 9781846312311
Sutherland, Keston (2010) The stats on inifinity. Crater Press.
Sutherland, Keston (2010) Hilarious absolute daybreak. Glossator: Practice and Theory of the Commentary, 2. pp. 115-147. ISSN 1942-3381
Sutherland, Keston (2010) Veronica Forrest-Thomson for readers. Kenyon Review . ISSN 0163-075X
Sutherland, Keston (2010) Wrong poetry. Textual Practice, 24 (4). pp. 765-782. ISSN 0950-236X
Sutherland, Keston (2009) Review: Katherine Lunn-Rockliffe, 'Tristan Corbiere and the poetics of irony'. Textual Practice, 23 (1). pp. 151-156. ISSN 0950-236X
Sutherland, Keston (2009) Happiness in writing. World Picture, 3. ISSN 1938-1700
Sutherland, Keston (2009) Life in Rodefer. Chicago Review, 54 (3). pp. 29-37. ISSN 0009-3696
Sutherland, Keston (2009) Stress Position. Barque Press. ISBN 9781903488690
Sutherland, Keston (2008) Marx in jargon. World Picture, 1. ISSN 1938-1700
Sutherland, Keston (2007) Hot White Andy; together with two essays on Keston Sutherland's poetry. [Composition]
Sutherland, Keston (2007) Vagueness, poetry. In: Contemporary poetics. Northwestern University Press, Evanston, Ill, pp. 175-184. ISBN 9780810123601
Sutherland, Keston (2007) XL Prynne. In: Complicities: British poetry 1945-2007. Literaria Pragensia, Prague, pp. 43-73. ISBN 9788073081942
Sutherland, Keston (2006) Ethica nullius. In: Avant-post: the avant-garde under "post" conditions. Literaria Pragensia, pp. 239-255. ISBN 9788073081232