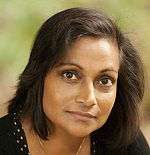 Dr
Minoli Salgado
Minoli Salgado's research has a literary focus on postmodernist texts, a theoretical orientation towards biopolitics and post-structuralist debates on migration, and a regional connection to South Asia. She is especially interested in exploring the literary construction of migrant subjectivity, and in comparing the ways in which different forms of displacement affect the representation of place and time.
Her monograph, Writing Sri Lanka: Literature, Resistance and the Politics of Place (Routledge 2007), situated Sri Lankan literature in English within the context of cultural nationalism and the civil war. The study was undertaken with the support of a Leverhulme Research Fellowship and an AHRC research grant.
Her current research focuses on terror, testimony and exile, exploring the ways in which writers from different parts of the world bear witness to politically sanctioned violence.
She has supervised DPhil research on a wide variety of subjects in postcolonial studies and particularly welcomes applications on postmodernist postcolonial fiction, migrant literary culture, Salman Rushdie, Michael Ondaatje and South Asian writing in English.
Salgado, Minoli (2012) Vanishing points/visible fictions: the textual politics of terror. Textual Practice. ISSN 0950-236X
Salgado, Minoli (2011) The new cartographies of re-Orientalism. Journal of Commonwealth Literature, 46 (2). pp. 199-218. ISSN 0021-9894
Salgado, Minoli (2007) The Politics of the Palimpsest in 'The Moor's Last Sigh'. In: The Cambridge companion to Salman Rushdie. Cambridge companions to literature . Cambridge University Press, Cambridge, pp. 153-167. ISBN 9780521847193
Salgado, Minoli (2006) Writing Sri Lanka: literature, resistance and the politics of place. Routledge Research in Postcolonial Literatures (15). Routledge. ISBN 9780415364188
Salgado, Minoli (2005) Writing home. In: Writers on writing: the art of the short story. Contributions to the study of world literature (128). Praeger, Westport, Conn, pp. 27-31. ISBN 9780313315923
Salgado, Minoli (2004) Writing Sri Lanka, reading resistance: Shyam Selvadurai's 'Funny Boy' and A. Sivanandan's 'When Memory Dies'. Journal of Commonwealth Literature, 39 (1). pp. 5-18. ISSN 0021-9894
Salgado, Minoli (2004) Nayantara Sahgal with Minoli Salgado. In: Writing across worlds: contemporary writers talk. Routledge, London ; New York, pp. 136-147. ISBN 9780415345668
Salgado, Minoli (2003) Nonlinear dynamics and the diasporic imagination. In: Diaspora and multiculturalism: common traditions and new developments. Rodopi, Amsterdam; New York, pp. 183-198. ISBN 9789042009066
Salgado, Minoli (2001) Complexity and the Migrant Writer: Chaotics in Michael Ondaatje's Fiction. In: Unhinging Hinglish: the languages and politics of fiction in English from the Indian subcontinent. Angles on the English-speaking world (1). Museum Tusculanum Press, Copenhagen, pp. 89-105. ISBN 9788772896724
Salgado, Minoli (2001) Anita Desai. In: A reader's companion to the short story in English. Greenwood Press, Westport, Conn, pp. 133-142. ISBN 9780313291043
Salgado, Minoli (2000) Tribal stories, scribal worlds: Mahasweta Devi and the unreliable translator. Journal of Commonwealth Literature, 35 (1). 131 - 145. ISSN 0021-9894
Salgado, Minoli (2000) Migration and mutability: the twice born fiction of Salman Rushdie. In: British culture of the postwar: an introduction to literature and society, 1945-1999. Routledge, London & New York, 31 - 49. ISBN 9780415128117
Salgado, Minoli (1996) Myths of the nation and female (self) sacrifice in Nayantara Sahgal's narratives. Journal of Commonwealth Literature, 31 (2). 61 - 73. ISSN 0021-9894
Salgado, Minoli (1996) When seeing is not believing: epiphany in Anita Desai's 'Games at Twilight'. Journal of Modern Literature, 20 (1). 103 - 108. ISSN 0022281X