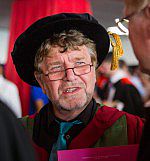 Prof
Chris Chatwin
Post:
Professor in Engineering (Engineering and Design, Industrial Informatics and Signal Processing Research Group, Data Intensive Science Centre at the University of Sussex)
Location:
SHAWCROSS 2B07
Email:
C.R.Chatwin@sussex.ac.uk

Telephone numbers
Internal:
8901
UK:
01273 678901
International:
+44 1273 678901

Research expertise:

Communication technology

,

Computer Middleware

,

Computer Systems and Architecture

,

Computer Tomography (CT)

,

Computer Vision & Image Processing - 3D

,

Computer Vision and Image Processing - Security

,

Electrical Impedance Tomography

,

Functional imaging for health

,

Health Informatics

,

Image and Vision Computing

,

Lasers and Optics

,

Manufacturing Systems and Integration

,

Mathematical modelling

,

Medical and health interface

,

Medical Informatics

,

Neural networks

,

Neurocomputing

,

Ontologies

,

Optical Communications

,

Optical Fibres

,

Satellite and Microwave Systems

,

Space science

,

Tomography for healthcare

download vCarddownload vCard to your mobile
Biography
View our Research Website hyperlink:
Industrial Informatics & Signal Processing Research Group (lisp) 1995-2015 - http://youtu.be/KZhl8YpkwqU
View my Google Scholar Publication profile - citations hyperlink:
http://scholar.google.co.uk/citations?user=qWQjtogAAAAJ
Follow my ResearchGate hyperlink:
https://www.researchgate.net/profile/Chris_Chatwin
https://www.researchgate.net/profile/Chris_Chatwin/publications?linkType=fulltextFile&ev=prf_pubs_file
From this research gate link you can download many of my papers
Follow our Spin-out Companies TexRAD Ltd & Feedback plc:
Professor Eur Ing C. R. Chatwin
BSc, MSc, PhD, CEng, CPhys, CSci, IntPE, FIET, FIMechE, FInstP, FRSA, MBCS, MIEEE.

Professor C. R. Chatwin holds the Chair of Engineering, University of Sussex, UK; where, inter alia, he is Research Director of the "iims Research Centre." and the Laser and Photonics Systems Engineering Group. At Sussex has been a member of the University: Senate, Council and Court. He has published two research monographs: one on numerical methods, the other on hybrid optical/digital computing - and more than two hundred international papers. Professor Chatwin is on the editorial board of the International Journal "Lasers in Engineering". He is also a member of: the Institution of Electrical and Electronic Engineers; IEEE Computer Society; the British Computer Society; the Association of Industrial Laser Users, European Optical Society. He is a Chartered Engineer, Euro-Engineer, International Professional Engineer, Chartered Physicist, Chartered Scientist and a Fellow of: The Institution of Electrical Engineers, The Institution of Mechanical Engineers, The Institute of Physics and The Royal Society for Arts, Manufacture and Commerce.
The Industrial Informatics group has been working on the interoperability of business IT systems for many years and has contributed to its evolution to its current state, the group has worked with commercial systems and more recently has been exploiting open source technology and data standardization in the context of health care systems. Research into the interoperability of National Health Service data and services provides highly pertinent know-how using HL7 and SNOMED in an SOA architecture. We are collaborating with theUniversityofUtah,SchoolofMedicineon the design, development, and validation of a standards-based task management service to enable a Service-Oriented Approach to Clinical Decision Support. In this project we will integrate the Tolven EHR/PHR system withUtah's OpenCDS (Clinical Decision Support). The group is also currently working on a commercial project to integrate smart cameras and sensors into a geospatial 3D command & control interface so that it is possible to perform a wide range of hitherto impossible tasks such as tracking individuals, cars, etc in "real space". We created the service bus middleware for this system which uses a rules engine for routing and rules services. Experience in Industrial informatics (ERP), service orientated architectures (SOA) using the Business Process Execution Language (BPEL) gives Sussex an understanding of how to implement governance standards in the control of information via Escrow services that are interoperable with the IT systems of organisations requesting permitted information. We have expertise in the exploitation of open-source enterprise service bus (ESB) in several projects, including: goods track and trace and port operations. We work with the University of Macau developing e-marketing Ontologies for commercial website optimisation.
Recent research has concentrated on three interlinked themes:
1) Recognition, Tracking, Surveillance & Security Systems
2) Informatics, Communications & Space
3) Biomedical Diagnostics & Prognostics
Sample publications in these areas are listed here and under the publications tab
For Postgraduate Dissertations at Sussex see reseearch tab
Role
Major Departmental Responsibilties:
Degree Programme Convenor for:
MSc in Satellite Communications and Space Systems
MEng/BEng in Electronics & Electrical Engineering & Computer Engineering
University Governance:
External Assessor for Universiti Putra Malaysia
University of Macau - Faculty of Business Administration - Degree Accreditation
Community and Business
Research Excellence Framework (REF) assessment - Panel B - Member of Sub-Panel 15 - General Engineering

Spin out Company Feedback plc http://www.fbk.com