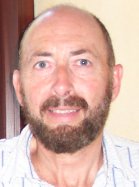 Prof
Paul Gough
Biography
International Exchange Student (IAESTE) at Bell Research Laboratories, Murray Hill, US. Design and testing magnetic film bubble memories 1966; 1967 University of Leicester, B.Sc. Honors in Physics; 1968 University of Leicester, M.Sc. Experimental Space Physics; 1972 University of Southampton, Ph.D. Thesis title: Rocket Measurements of Energetic Particle Precipitation. (Sounding rocket instrumentation design );1972 University of Southampton, Research Fellow. Instrumentation design, construction and data analysis for Skylark sounding rocket payloads.
Royal Society Fellowship (Latin American scheme)1973 held at Centro de Radio Astronomia e Astrofisica, Sao Paulo Brazil. & Geophysical Institute, Huancayo, Peru, Investigation of South Atlantic Anomaly;
Senior Post-Doctoral Research Fellow, Durham University and Smithsonian Centre for Astro-Physics, Tuscon, Arizona. 1975 Investigation of Cosmic Ray energy spectrum using the atmosphere as Cerenkov detector. Combining computer simulations (3-D Monte Carlo) with experimental measurements;
SERC Research Fellow at University of Sussex.1977 Study of magnetosphere plasma waves using European Space Agency satellites: GEOS I & II, and Auroral sounding rockets;
SERC Advanced Fellow at University of Sussex. 1981,Principal Investigator on AMPTE UK satellite, UOSAT-2, and on German CAESAR and Earth Energy Budget sounding rockets;
Lecturer in Electronic Engineering and Computer Studies School of Engineering, University of Sussex1986
Reader in School of Engineering & IT, (EIT) University of Sussex 1993 NASA Shuttle missions STS-46 & STS75;
Professor of Space Science, University of Sussex,1997, ESA Cluster II & Chinese Double Star missions, Russian ISS Obstanovka experiment.
Emeritus Professor, 2010
Role
Emeritus Professor
Principal Investigator Co-Investigator for Space Instruments on European (ESA), United States (NASA), and Russian Space Agency missions
Community and Business
Prizes and Honours
NASA Group Achievement Award for AMPTE Project, 11-12-1985
Federal Republic of Germany in recognition of contribution to AMPTE proj, 15-10-1986
NASA Award for outstanding contribution to Tethered Satellite System 22-02-1996
NASA Group Achievement Award for Cluster Science, 24-08-2004
ESA Award in recognition of outstanding contribution to Cluster 21-09-2005
Professional Activity
Fellow of the Institute of Engineering and Technology
Fellow of the Royal Astronomical Society
Member of UK STFC Modulus Steering Committee (for UK instruments on the ESA Rosetta mission) 2007-present
Additional Professional Links

1997-2004 Director of Graduate Studies Engineering,
2000-2005 Chairman of Academic Audit Sub-Committee, EIT
Convenor of 4th year MEng Group Projects
2004-2007 Director of Graduate Studies, School of Science & Technology
2007-2011 Member of University of Sussex Research Degrees Exam Board