Athena SWAN
The School of Engineering and Informatics is committed to promoting gender equality and enabling all staff to achieve their maximum potential. This commitment is recognised by Athena SWAN Charter awards.
The Athena SWAN Charter was developed to combat under-representation of women in science, technology, engineering, medicine and mathematics (STEMM) in higher education and research. It covers:
representation in academic roles
progression of students into academia
journey through career milestones
working environment for all staff
The University of Sussex holds a bronze Athena SWAN institutional award, in recognition of its commitment to promoting gender equality for women in STEMM disciplines.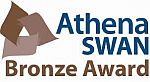 The School of Engineering and Informatics holds a bronze Athena SWAN departmental award, which recognises that the School is working to promote gender equality, has identified particular challenges and is taking action to address these. The School initially gained a bronze award in 2015, and successfully renewed it in the April 2018 award round (Engineering and Informatics Athena SWAN bronze [PDF 1.08MB]). The award is valid for three years.
Current activities
Athena SWAN is relevant to the whole School of Engineering and Informatics, and is a standing agenda item for School committees. The process itself is managed by the self-assessment team (SAT) whose members represent a cross-section of the School. Academic and administrative staff members are:
Dr Elizabeth Rendon-Morales (joint lead)
Dr Spyros Skarvelis-Kazakos (joint lead)
Prof Jonathan Bacon
Dr Anna Barnett
Dr Silvia Butera
Prof John Carroll
Dr Kate Howland
Ms Lucy Macpherson
Prof Maziar Nekovee
Mr Luke Scott
Prof Ian Wakeman
Dr Julie Weeds
The SAT meets regularly; below is a photo taken at a recent meeting (photo by Vik Winter).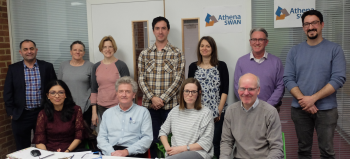 The SAT is responsible for implementing the action plan in our Athena SWAN application. A sample of the actions are:
Monitoring timings of School meetings and social gatherings to ensure they are held within core hours unless a different timing is unavoidable.
Making staff aware of changes to equality and diversity policies.
Encouraging staff to attend equality and diversity training, particularly on unconscious bias.
Encouraging female staff to attend the academic promotions workshop, and monitoring its impact via a focus group.
Contacting female staff about career support initiatives which are relevant to them and encouraging them to take part.
Running a focus group to understand what types of networking opportunities would be most beneficial to staff.
Encouraging female students to consider further study, and if appropriate providing mentoring.
Conducting staff and student surveys to monitor the effects of Athena SWAN initiatives.
Research and events
Staff and students in the School are involved in research and events relating to women's careers in STEMM higher education and research. Below are news articles about some of these:
Leading female scientists exhibit at Soapbox Science event

Soapbox Science allows the public to engage with leading female scientists who are making a real difference to the world we live in.
Teens design racing car

Teenagers from two schools in Sussex try their hand at designing a racing car at the University of Sussex.
Engineering and Informatics celebrates National Women in Engineering Day

The School of Engineering and Informatics organises an event on career opportunities and challenges for female engineers and computer scientists.
Workshops inspire young people to study computing, robotics and electronics

Teenagers from schools and colleges in Sussex and Kent learn how to build and program a robot during a Widening Participation programme.
Going the extra mile to support women in STEM

Dr Luc Berthouze addresses the inequality gap by running the 2016 Brighton Marathon to raise funds for a brand new scholarship.
Sussex robots inspire next generation of female engineers

Sussex celebrates the 50th anniversary of engineering on campus by using robots to inspire the next generation of engineers – especially girls.
Researcher presents 'girls better at programming' findings at major IT conference

A researcher who received worldwide media coverage for a study of girls' programming skills presents her findings at a conference in Holland.
Inclusive use of language — resources
The School is committed to the inclusive use of language. Communication (both written and oral) should not make implicit assumptions that may may lead to people feeling excluded or inferior. Please refer to the following resources for examples and guidance:
Further information
If you are a member of EngInf staff, you can access further information through the EngInf Athena SWAN Study Direct site.
Please contact any member of the self-assessment team if you have any questions or if you would like to be involved.