Postgraduate Research Student Annual Review
Deadline: 20/07/2018.
Why do we have the Annual Review?
Your Annual Review is a valuable opportunity for you to receive independent feedback on your progress, and for you to comment on the supervision, services, and facilities available to you. Please note that you, the student, are responsible for ensuring your Annual Review and Interview are started and completed on time.
You will not be able to re-register for the new academic year until you have completed your Annual Review and Interview. If you delay, you might not be able to re-register on time in October. The university may impose a late registration fee of £50 on students who re-register late. It can take several weeks to complete the Review, so please do not postpone starting on it.
What's goes in to the Annual Review?
The Annual Review consists of a Student's Report (the content varies dependant on your year of study), three online questionnaires and an interview with your thesis committee. Once all the parts are complete you will submit all the documentation via Study Direct.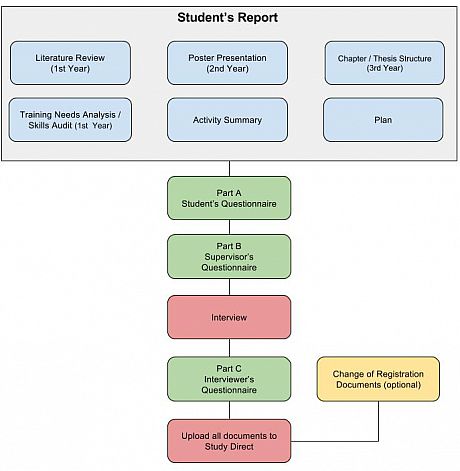 Does this apply to me?
All research students are expected to complete an Annual Review once a year. There are very few exemptions to the process.
The Annual Review is for:
MPhil and PhD Students
Full-time and part-time Students
Students who started in January (this later start will be taken into consideration during the Review)
Students who are on continuation, extension, distance learners, or those writing up
Students who are provisionally registered
Students who believe they are going to submit their thesis soon or before September must still complete an Annual Review as their submission may be delayed. Remember, you must be registered in order to submit your thesis.
Students who have applied for a Research Exam but have not yet submitted their thesis must still complete an Annual Review as their submission may be delayed. Remember, you must be registered in order to submit your thesis.
Exemptions:
May Starters. Your full Annual Review will be in December, in the meantime you will need to submit an Interim Apprisal:
http://www.sussex.ac.uk/ei/internal/forstudents/pgres/intapp
You have intermitted (Temporarily Withdrawn) from University, or you are about to do so. When you return from Intermission you will be expected to undertake an Annual Review if your last Review was more than a year ago.
You have formally submitted your thesis.
The School Director of Doctoral Studies has specifically exempted you. If you wish to apply for special consideration, you or your supervisor should contact Professor Peter Cheng
Step by step guide...
The Annual Review can be broken down into five separate steps. Follow the headings below for more details of each step.
1) Pre-interview preparation
2) The interview
3) After the interview
4) Wait...do I need to change my registration?
5) Submission and Document Checklist
How to prepare the Student's Report
These guidelines to help you prepare your Student's Report. If you are unsure of the requirements please discuss them with your supervisor.
The Student's Report is made of 3 parts...
Part 1.
Two page summary of activities to date, focussing in particular on the period since the last review. Discuss to what extent you met your plan for the year. To include: statement of research topic/question; research activities; publications and presentations (internal or external); courses and training (formal and informal), etc. You must provide suficient detail of the tasks completed so the interviewers are able to make an assessment of your progress. You will not be fully registered unless you provide sufficient evidence of your progress.
Part 2.
Student's plan: Two page summary of plans for (a) the coming year to include a month-by-month timetable, (b) remainder of the degree including a quarter-by-quarter timetable, e.g., include a Gantt chart or similar. The plan should briefly describe the activities with consideration of potential problems and risks of not completing the activities. Discuss the plans with your supervisor.
Part 3.
One of three different options depending on your year:
Year 1

10,000 word literature review and detailed research proposal. (2nd year p/t could be a revision of the report from year 1 or next option - discuss this with your supervisor)

Year 2

Poster presentation. Conference style. Present at Postgraduate poster session. Thesis committee members are encouraged to attend poster session. Annual review will consider poster during the usual meeting. The poster may be an actual conference poster not more than 6 months old, or a (draft) poster for an upcoming conference.

Later years...

Two sections are required:

1) A published/submitted paper or complete thesis chapter.

2) A two page outline of your thesis structure

You are also welcome to present a poster at the PG Poster Session; although not compulsory it would allow you to gather useful input for your research.
What's next?
* Once handed in, your documents will require further processing so it is important not to leave anything to the last minute.
* The Director of Doctoral Studies will look at all the papers you have handed in and will make a decision on your re-registration. Providing the Director of Doctoral Studies approves your re-registration, and providing you have completed the review on time, you will be able to re-register online from early September.
* The Research Student Administration Office (part of the Academic Registry) will send you information confirming your re-registration status.
* Please note that the Director of Doctoral Studies may not sign off the re-registration of students whose progression information is incomplete. Not submitting complete documents will delay your re-registration.
Help I'm stuck!
If you are not sure what you need to hand in, then have a look at the checklist under the 'Submission and Document Checklist' heading above. Parts A, B, and C are now all online.
Answers to common queries and problems can be found under the Annual review FAQ heading.
If you have read through the web pages and the FAQ page and are still unsure of what to do or have any other concerns please contact Luke Scott
If you feel you require special consideration or have concerns about the Annual Review procedure itself please contact Professor Peter Cheng
Useful Links and Documents
Annual review FAQ
Frequently Asked Questions for the Postgraduate Research Annual Review
Please click on a heading below for answers to these frequently asked questions.
1) Where did all the PDF/Word Documents go?
Parts A, B, and C are completed online although you can find PDF samples of the questions in the documents section above.
2) What is the Annual Review?
The Annual Review is a formal assessment of progress for all postgraduate research students, the outcome of which determines whether you are allowed to re-register as a student. If you reach an unsatisfactory review your registration may be discontinued.
3) When is the Annual Review?
Please see the timetable which sets out the timings for the Annual Review and Interim Appraisal.
4) I'm not sure if I need to do the Annual Review, can I get an exemption?
Please read the section Does this apply to me? in the section above.
5) I have handed in my complete Annual Review documents in on time, but when I try to re-register online it says I can't. What's going on?
After the deadline date we will need to process your re-registration within the School. This is clearing the academic conditions, so if you are getting the response 'academic conditions not met', this is what's happening. We then forward our recommendation to the Universities central Administration who also take some time to process each re-registration. In all, this can take a couple of weeks. If you are getting a message about financial reasons please contact Student Accounts centrally.
6) What's the difference between Pre-submission and Extension?
Pre-submission status (previously known as continuation) is a type of registration. It means that you have completed your research work and you are currently writing up your thesis. The fees are considerably lower but you will have limited access to University resources. You must discuss it with your Main Supervisor first. This does not automatically extend your end date and any change to this needs to be applied for separately (see Extension next).
Extension: When you start at the University an End Date is calculated for you based on your degree and mode of attendance (you can check the date on your Sussex Direct page). You have until this date to submit your thesis. In exceptional circumstances you may need to extend this period of time, you will need to formally apply for an extension.

Further information on pre-submission and extension, and how to apply.
7) I am finding it difficult to organise a Thesis Committee Meeting before the deadline, what should I do?
You should be working with your supervisor to arrange your committee meeting. If you are unable to contact your supervisor after numerous attempts please contact Luke Scott.
8) I have a supervisor outside of Engineering and Informatics, whose Annual Review process should I be following?
Generally you should follow the process in the School of your Main Supervisor. You can check with your second supervisor's School to see what their policy is. If you have a 50/50 split or are unsure, contact Luke Scott.
9) I need to change my registration, should I include this in my Annual Review?
10) What is my 'Maximum date' OR 'End date', and where can I find it?
Your 'maximum date' OR 'end date' is the latest date by which you can submit your Thesis. To find it: log on to your Study Pages on Sussex Direct. Under the Course tab you will find your start date and end date.
11) How long does a PhD normally take?
A PhD should take between 3 – 3 ½ years full-time, and 4 – 5 years part-time.
12) What is my Skills Audit / Training Needs Analysis?
In the first few months of starting your degree course you should have completed a skills audit / training needs analysis with your supervisor. A copy of the audit should be uploaded as part of your Annual Review documentation (if you are a first year). Please contact Luke Scott if you have not completed a skills audit.
Whilst considering your training needs you might also want to refer to your training record. Your training record can be can found within the personal menu of Sussex Direct. This will list what centrally run courses you have attended at Sussex and may assist you when you come to write your CV and applications for employment.
13) I am having some difficulties/issues with my Supervisor, what can I do?
Contact your second Supervisor to discuss the issues. If you have further concerns please contact the Director of Doctoral Studies, Peter Cheng.