Support for international researchers should be delivered within a framework of domestic and European legislation relating to equality and human rights. This section outlines the legal responsibilities in the UK, Spain, and Sweden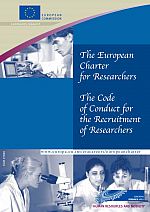 In addition, The European Charter for Researchers [PDF 270.19KB] requires:
that Member States endeavour to undertake the necessary steps to ensure that employers or funders of researchers develop and maintain a supportive research environment and working culture, where individuals and research groups are valued, encouraged and supported, and provided with the necessary material and intangible support to enable them to fulfil their objectives and tasks. Within this context, particular priority should be given to the organisation of working and training conditions in the early stage of the researchers' careers, as it contributes to the future choices and attractiveness of a career in R&D.
that Member States endeavour to take, wherever necessary, the crucial steps to ensure that employers or funders of researchers improve the recruitment methods and career evaluation/appraisal systems in
order to create a more transparent, open, equal and internationally accepted system of recruitment and career development as a prerequisite for a genuine European labour market for researchers.
The Charter's General Principles and Requirements applicable to Employers and Funders include:
Non-discrimination:

That Member States endeavour to take, wherever necessary, the crucial steps to ensure that employers or funders of researchers improve the recruitment methods and career evaluation/appraisal systems in order to create a more transparent, open, equal and internationally accepted system of recruitment and career development as a prerequisite for a genuine European labour market for researchers.

Value of mobility:

Employers and/or funders must recognise the value of geographical, intersectoral, inter- and trans-disciplinary and virtual 12 mobility as well as mobility between the public and private sector as an important means of enhancing scientific knowledge and professional development at any stage of a researcher's career. Consequently, they should build such options into the specific career development strategy and fully value and acknowledge any mobility experience within their career progression/appraisal system."
And The Code of Conduct for the Recruitment of Researchers states that:
Any mobility experience, e.g. a stay in another country/region or in another research setting (public or private) or a change from one discipline or sector to another, whether as part of the initial research training or at a later stage of the research career, or virtual mobility experience, should be considered as a valuable contribution to the professional development of a researcher